Bonsai trees for beginners: why you should try the art of growing trees in small trays
Have you had one of those days when you want to shut the noise out, clear your head and get into a state of zen? Sometimes the stress can be so overwhelming that your mind just wants to be silent, but you find it difficult because your brain is too wired to not think about anything. Heck, it's hard to not even think about not thinking!
When life gets a little too crazy to handle, I think about this famous line in the movie, 'The Karate Kid' and I imagine my favourite character, Mr. Miyagi, saying this in a calm voice:
'Close your eyes, concentrate. Think only tree'.
Hush. Think only of the tree. You are the tree, Jamie. Be the tree.
You should try it sometime. It has been my personal mantra during stressful times, and I just find myself getting into the zone again. I grew up watching The Karate Kid (no judgment here if you did, too) and Mr. Miyagi was kind of a personal hero of mine for staying unfazed in the face of adversity.
If you don't know who Mr. Miyagi is and why he's such an iconic character, I have two things for you: karate and bonsai trees. Wait, what?
You heard it right. Mr. Miyagi worked his bonsai trimming wisdom on his protege Daniel until the boy grew from a shy kid into a local teen karate hero. With so much going on in Daniel's life, taking care of the bonsai tree was the anchor he returned to when the going got tougher than tough. You can say that the tree was somehow an allusion to Daniel. 
Famous bonsai artist John Naka once said, 'Bonsai is not the result: that comes after. Your enjoyment is what is important'.
With the trailer for the 3rd season of Netflix's small-screen adaptation, Cobra Kai, coming up, I'm tempted to take out my shears and get back to my new-old hobby. And no, I'm not talking about karate. 
Finding the right bonsai tree for you
So, you've watched the movie, read about bonsai trimming, and you're ready to get into the zone and have some inner peace. How to start?
First, you need to find the right tree for you. While there are no do's and don'ts to picking the right tree, getting a feel if you can connect with the plant is a big plus. Part of the art of making beautiful bonsai trees is being able to intuit the flow of the plant's growth, and having that connection helps.
You'll also need to give it your time and commitment, so make sure the plant you've chosen is something you like, at least.
Finding a bonsai tree for sale in Brisbane can be quite confusing if you don't know where to look. Luckily for you, we've put together a list of our top bonsai tree suppliers to make sourcing easy and simple for you.
The Bonsai Man (Keperra)
You have to give it to Roger Lunt, aka The Bonsai Man, for seeing a golden opportunity when it crossed his path. What started out as a friendly gift 30 years ago became a career for this bonsai expert.
Go through Roger's personal and for sale collection and you'll see the artistry that goes into each handwork. You'll see a wide variety of bonsai trees there, including Chinese elm, jades/money tree, willow leaf, Queensland small leaf fig, white Hawaiian fig, Japanese squamata, white jade, cascade juniper, swamp cypress, juniper, and bougainvillea. 
He also offers bonsai pots, tools, and starter trees and show trees for both bonsai beginners and bonsai enthusiasts. If you're looking for beautiful bonsai trees in Brisbane that you'd like to keep or give as an heirloom piece, The Bonsai Man is an excellent choice for you.
Robin Godfrey Bonsai (Oxley)
You'd know a bonsai tree enthusiast when you see one. Enter into Robin Godfrey's nondescript bonsai nursery and you'll be pleasantly surprised to see a wide variety of bonsai trees to choose from.
The nursery's owner cultivates different kinds of bonsai including flowering varieties like the plumeria rubra and the bougainvillea. If you want to ease into the aesthetic of bonsai trees, Robin's collection, with its colourful blooms, is the best way to go.
Popular among bonsai tree lovers for his well-maintained collection, Robin makes time to share his passion to his clients and to talk to them about tips on how best to care for their beloved trees. If you happen to visit, make sure to bring cash because you'll most certainly bring home a tree (and a bonsai story) from Robin's collection.
Oxley Nursery (Oxley)
What can you not find at Oxley Nursery? With over an acre of plants and gardening tools, you'll probably want to spend at least a day here just taking in the gorgeous selection they have to offer.
Set like a huge Japanese garden, Oxley Nursery is known to be the go-to of many plant lovers in Brisbane. Their tranquil grounds are beautifully dotted with Buddha statues and give you that zen vibe, a perfect start to set the tone for your bonsai tree hunting. The meditative ambience makes it tempting to pass the time here and rejuvenate among the hundreds of plants in the premises.
Bonsai tree enthusiasts rave about the variety of bonsai trees and tools you can get here at the most competitive prices. While this is not a specialist nursery for bonsai trees, loyal customers love the service and their wide collection that offers practically everything you need for gardening.
FAQs
What is the usual price range for bonsai trees?
The price of a bonsai tree varies depending on the level of artistry that went into it. If you're a beginner and not too keen on spending much, you'll be able to find a starter bonsai tree worth $28-$40 a pot.
Show trees that are bigger and older can set you back up to $1000-$3000 per tree depending on your supplier. While that may be a hefty price to pay, it's worth every penny for enthusiasts and collectors who consider bonsai trees a living art form.
What do bonsai trees symbolise?
Aside from symbolising the care and commitment that went into it, giving someone a bonsai tree can be a message of good health, harmony, prosperity, and friendship.
Giving a leafy vibrant bonsai tree is suitable when you want to wish someone good health, for example. Bonsai tree symbolisms may vary depending on the kind of plant used and how a bonsai tree owner may interpret the tree's representations.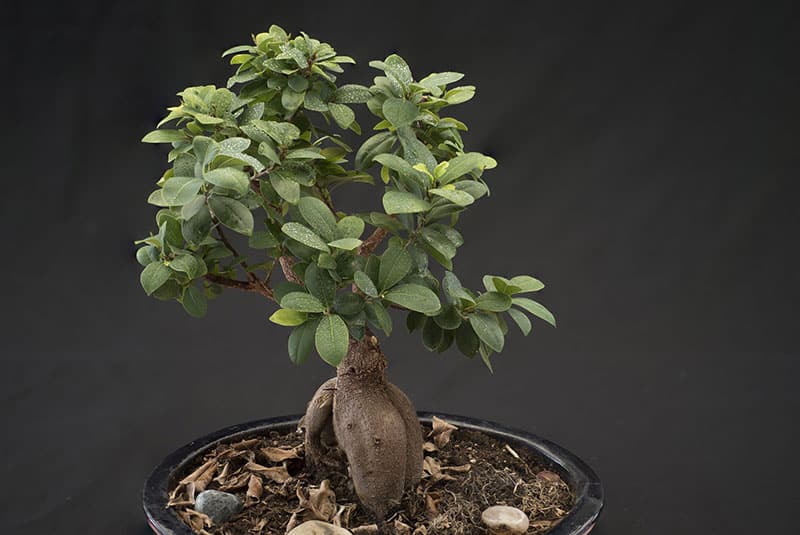 Are bonsai trees difficult to take care of?
While bonsai trees are not difficult to take care of, they do require a certain amount of skill and commitment for them to grow beautifully.
Bonsai guru John Naka once said, 'The object is not to make the tree look like a bonsai, but to make the bonsai look like a tree.' The key here is to achieve the right balance and to intuit the natural growth of the tree.
The funny thing about taking care of bonsai trees is how much it can help uplift your wellbeing. The whole process is more spiritual than it looks and can even be a bit life-changing. Don't be surprised to find yourself hooked once you start getting into it. 
Looking for people to share your passion for bonsai trees with?  You can attend workshops and join bonsai clubs in your community to exchange news and updates with fellow enthusiasts.
For more tips and advice for your Brisbane garden, don't hesitate to give us a call. Just like you, we're passionate about anything and everything plants. Let us know if your bonsai tree hunting adventure went well!