NDIS Gardening & Lawn Mowing Services
Home NDIS Gardening






Get The Best
NDIS Garden Maintenance

 Service Available

Our overall rating is 4.7 / 5 based on 1,000+ reviews from happy customers

Meredith Senedy
Brisbane, QLD
I really appreciate how smooth this process has been. Lawn.com.au, and specifically Jen were recommended to me by another support co-ordinator and I can see why. You won't find a better service provider anywhere!
Jonathan Reid
Sydney, NSW
Great gardening service! Lawn.com.au are always on time keep me informed so I can prepare for their arrival and do a really good job with the lawns. They will weed, trim and most of all clean the whole area when they leave making the outside area of your house smashing. I would highly recommend this service.

Kiara McCready
Adelaide, SA
Our daughter has been a client of Lawn.com.au for over 12 months now and I cannot recommend them highly enough. We were with several other providers before them. We were lucky enough to be recommended to Lawn.com.au and for the first time ever nothing was too much trouble. Our first contact was nothing but positive, with "Yes we can do that" – something we had not come across before.
Lawn.com.au Is Your Professional
NDIS Lawn Mowing

 Provider

As a registered NDIS provider, Lawn.com.au works closely with you to help you get the most out of your NDIS plan. The Australian Government's NDIS, or National Disability Insurance Scheme, provides support to eligible people with a disability so that their skills and independence improve over time.

When your disability means you need support to maintain your home and garden, it can be frustrating. Help is at hand with the Assistance with Daily Life funding, which comes under the Core Supports budget in your plan.

In 2018, Lawn.com.au became an approved supplier of NDIS yard maintenance. Our NDIS provider number is: 4050036196. We have since performed hundreds of services for those who are either Self, Plan or Agency Managed.

Call Lawn.com.au today on 1800 450 453 to discuss your gardening needs or Book Online today if you are ready to get your yard looking fresh!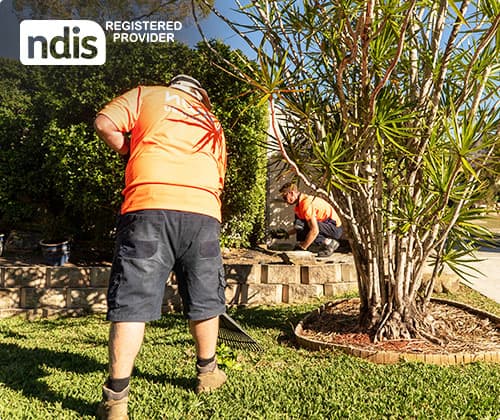 How to Get Started with Lawn.com.au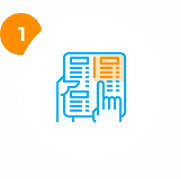 Step 1: Contact Our NDIS Team
We understand every client's needs are different, which is why we will work with you or your Plan Manager to provide the gardening you require. You can call us or click the button below to get in touch.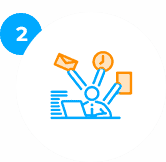 Step 2: We draft your Service Agreement
In line with your Plan requirements we will craft a Service Agreement and work out a schedule of services for you or your Plan Manager to review.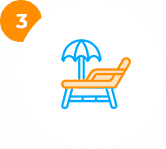 Step 3: Creation of Service Booking in the NDIS myplace platform
We are able to create your Service Booking through the NDIS myplace platform (if required). We will then begin providing the agreed upon services to you.
Recently Completed
NDIS Gardening & Lawn 

Maintenance

 Services

Some photos of our recently completed gardening jobs
Services We Offer To
Help Support

You

We perform a wide range of essential yard activities that the participant is not able to undertake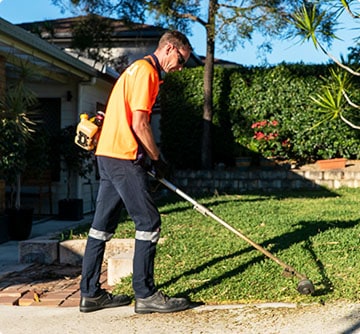 Gardening
We have teams with certified horticulture knowledge
Mulching and soil conditioning to prevent soil erosion, reduce water loss and prevent the growth of weeds
Garden mulchingl
Garden beds tending and edging
Green waste removal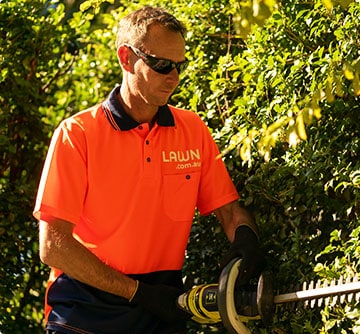 Hedge Trimming
Professional pruning & hedge trimming services to shape hedges, palms, shrubs and bushes
Able to do hedges up to 3m in height
Simple pricing based on height and number
Experienced professionals mean we know how to cut based on variety, season, positioning and needs
We can take away the clippings when we leave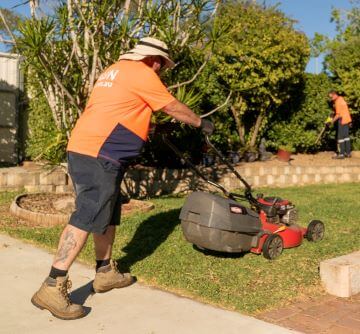 Lawn Mowing & Weed Treatment
Our lawn mowing servce will leave your lawn safe, healthy and looking beautiful
We specialise in weed spraying. Whether you have broad-leaf weeds like bindi and clover or grassy weeds like kikuyu or couch, we can treat and remove it for you and allow the plants you love to flourish
Lawn aeration and top dressing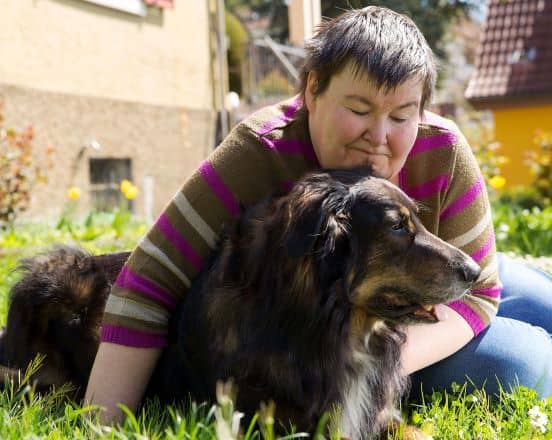 NDIS Yard Maintenance: Maintain a
Beautiful Garden

Without Having To Lift a Finger

Whether you are after regular lawn mowing or gardener care and maintenance, a garden makeover or tidy up, the team at Lawn.com.au can help. Our teams have a wide range of experience from lawn restoration, turf laying and soft landscaping to plant selection, irrigation installation and soil restoration.

Our team are all fully trained and police checked, and fully insured, so your property, garden and lawn are in safe hands.
Message from the Lawn.com.au owners on being a yard maintenance NDIS approved supplier
"At Lawn.com.au we are incredibly proud to be apart of the NDIS. Growing up our mum worked in special schools so from a young age we had an insight into the everyday issues those with a disability and their loved ones faced. To now be in a position where we can assist on a significant scale is very special to us." – Toby, Alex & Jason Schulz
Frequently Asked Questions
Is Lawn.com.au An NDIS Approved Supplier?
Yes we are. Our provider number is: 4050036196
Who Will Come To My Property?
Lawn.com.au has a large number of teams and professionals we utilise to provide NDIS services. All our teams are fully trained, have a current police check and are fully insured. Based on the time and date of your request, we work to assign the best professional available. If you jump on a recurring service, then we will do our absolute best to ensure that you have the same team every time. This means you know what to expect each time Lawn.com.au arrives.
How Do I Set Up My NDIS Gardening Service?
We understand every customer's needs are different, which is why we will work with you or your Plan Manager to provide the lawn care service you require. Once we have discussed your needs, we will craft a Service Agreement that is in line with your Plan requirements and work out a schedule of services for you or your Plan Manager to review.
Do The Teams Bring Their Own Supplies & Equipment?
Yes, from lawn mowers to clippers and hedge trimmers all of our teams bring their own supplies and equipment to your booking.
What Is The Current NDIS Gardening Rate?
The current NDIS lawn mowing and gardening rates are:
National non-remote $49.30
National remote $69.02
National very remote $73.95
Keep in mind that the NDIS will only cover the cost of getting someone to complete the tasks and will not pay for inputs such as mulch, soil, compost or plants.
Do I Have To Be Home When The Team Is There?
Not at all. If we require keyed gate access, you can just leave us a key to gain entry and we will take it from there. You can do your own thing while we take care of the lawn mowing and gardening for you.
What If I Am Not Satisfied After It Is Completed?
After your service is complete, you will receive an email asking you to rate your booking and provide comments. In the unfortunate circumstance that something has not worked out as you expected, please let us know. We stand by our work! If you are unhappy with your booking, we'll return to make it right.
I Have Questions, Who Can I Talk To Before I Book?
Frequently Asked Questions
We provide NDIS lawn mowing and gardening services to most cities across Australia, see below for our major service areas.