Get The Best Lawn Mowing Service In Sunshine Coast
Experienced and Insured
Unmatched Customer Support
Quality Guaranteed
Rated 4.7 / 5 based on 1,000+ reviews






Get The Best Lawn Mowing
Sunshine Coast

Has To Offer

Our overall rating is 4.7 / 5 based on 1,000+ reviews from happy customers

Patsy Lim
Sunshine Coast, QLD
This is my first time using Lawn.com.au. I have to say from setting up the service to the employees answering all my questions. It has been a positive experience. Got home today to see the first lawn service and it looks great. Clean, professional looking.

Debra Wright
Sunshine Coast, QLD
Had my first cut… Didn't know what to expect. I was amazed when I got home. I had so many ask who I hire and if I can pass the Info to them. I also passed to all my sisters and my mom.

Steven Miller
Sunshine Coast, QLD
George, the gardener that came to us from Lawn.com.au was fantastic. He worked hard for 3 hours solidly mostly in heavy rain – mowing the lawns, trimming and weeding. George was very nice, very responsive and we were very pleased with all he achieved. I would highly recommend George and Lawn.com.au.
How To Get Started With Lawn.com.au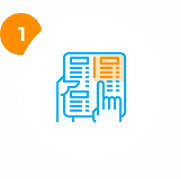 Choose Your Service
Select the date, what you need done, and how often using our simple online booking form.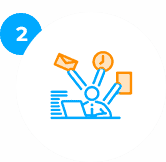 Manage Everything Online
Rescheduling, adding a note to your booking or getting in touch is just a tap, click or text away.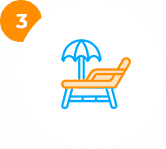 Sit Back and Relax
An experienced, fully-equipped team of lawn care professionals will be there on your selected day – to get your lawn looking better than ever.
Services We Offer In
Sunshine Coast
Looking for reliable, convenient, lawn care services in Sunshine Coast? Lawn.com.au makes it easier than ever before to get
lawn mowing services by bringing the lawn care industry into the 21st century.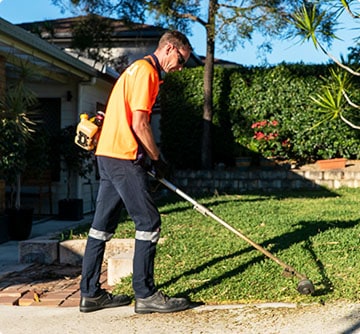 Gardening
We have teams with certified horticulture knowledge
Garden maintenance for residential and commercial
Mulching and soil conditioning to prevent soil erosion, reduce water loss and prevent the growth of weeds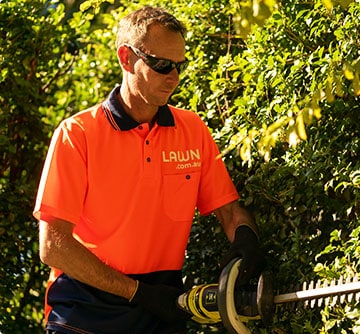 Hedge Trimming
Professional pruning & hedge trimming services to shape hedges, shrubs and bushes
Able to do hedges up to 3m in height
Simple pricing based on height and number
Experienced professionals mean we know how to cut based on variety, season, positioning and needs
We can take away the clippings when we leave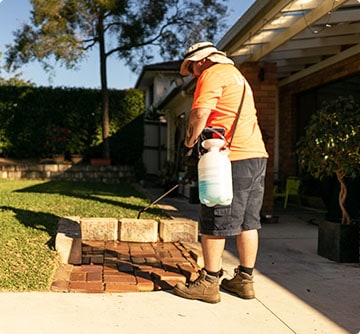 Weed Treatment
We specialise in weed spraying. Whether you have broad-leaf weeds like bindi and clover or grassy weeds like kikuyu or couch, we can treat and remove it for you and allow the plants you love to flourish
Know what weeds you have? Let us know and we can buy the right product or bring the right equipment on hand
Not sure what has your grass struggling? We can identify and handle it for you
Lawn Care and Mowing in
Sunshine Coast
Choose from any of our professional lawn care services to be able to simply and easily have your gardens managed and grass mowed. Unsure what lawn mowing service or job you need done? We know time is short and life is busy in Australia and customers need to get their lawns mowed. Have a special request relating to your lawn mowing service, hedging, lawn cutting, lawn clippings disposal or garden waste removal relating to your property?
Save time by giving us a call. Let us know what we should take a look at while we are completing our garden and lawn mowing services and we will let you know what other job in the garden might need to be done.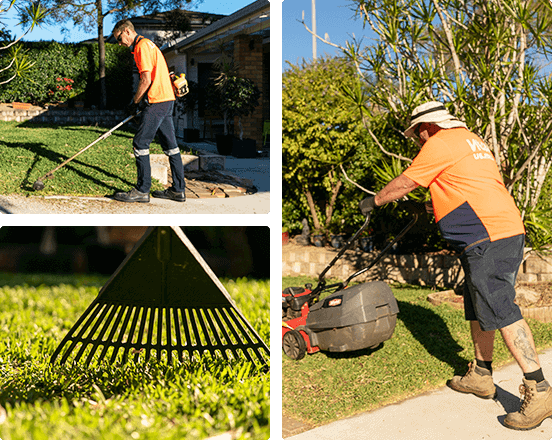 Recent Reviews From Happy Customers All Over Sunshine Coast
The gardener from Lawn.com.au showed up at the appointed time and date, he managed to work around my schedule which really was a big help for me. He did a great job mowing the lawn and cleaning up after. I had an overgrown lawn with lots of tall weeds and couldn't use my own mower. I appreciate the gardener who came on time with the proper tools. Did such a wonderful job without supervision… A great help indeed!
Our front gardens look neat and tidy. It is the best it has looked in years.
I just want to say wow! My lawn was such a mess before they came, being neglected for months. Lawn.com.au took over and unbelievably transformed it in a few hours. Nothing like the gardener they sent over to do the work. He was a real deal. He took so much pride in his work, always happy and willing to listen. I was so relieved that I didn't have to do this awful lot of job myself. I can now divert my attention to my business. This gives me peace of mind. Thank you very much!
The team were polite and professional. I look forward to having them back again.
The team did an amazing job. It was so nice to come home from work to see their work.
Some Recently Completed Jobs in
Sunshine Coast
We value customer feedback to continuously improve our service. You can find some of our most recently completed local work shown below.