We all know the feeling of pride in a beautifully-manicured lawn. Whether you've got a big lawn or a small lawn, nothing beats the sight and scent of freshly-trimmed grass. But to maintain a pristine lawn, you'll need a good lawn mower.
Not just good, actually – the best mowers available in Australia.
In need of a lawn mower to keep your greenery looking crisp and clean? Here's our list of the best lawn mowers in Australia.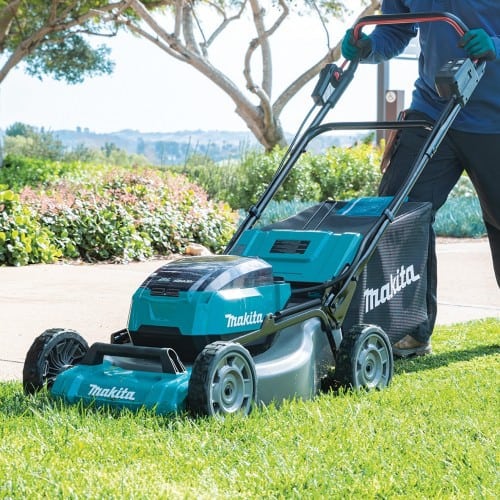 | | |
| --- | --- |
| Makita DLM535PG2 Cordless Brushless Lawn Mower | $1,049 |
38.4kg with battery | Holds 4 x 18V batteries
Makita may be known for power tools, but they don't skimp on their mower qualities. The tool powerhouse has started making outdoor equipment with unparalleled performance and productivity.
The DLM535PG2 holds four 18V batteries, with the signature Makita brushless motor at 2,800rpm. It also has a quiet mode at 2,300rpm. It contains a bar blade with a maximum cutting width of 534mm and 10 adjustable cutting heights. Plus, it has a high grass box capacity of 70L.
For the best electric lawn mower, look no further than Makita.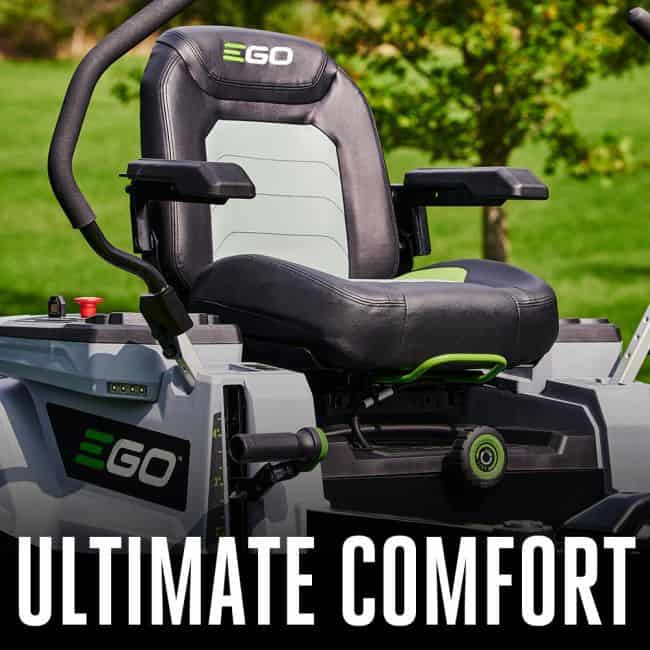 | | |
| --- | --- |
| EGO POWER+ Z6 Cordless Brushless Zero Turn Ride On Mower | $8,999 |
Top speed of 13km/h | 3-in-1 function: mulching, bagging, side-discharge
EGO has stepped up its game with the Power+ Z6 56V. It may be a little pricey, but it's one of the best lawn mowers out there for zero-turn models. The Power+ Z6 has an onboard fast-charging system with an adjustable seat and 5 drive/cutting speeds.
The Peak Power™+ Technology carries the power of up to 6 56V Lithium™ batteries for maximum runtime. This EGO ride-on mower can cut up to 3acres on a single charge with its 6 battery units. It has 10 cutting height adjustments from 25–100mm, and speeds of 5–11kph (13kph in travel mode).
Looking for the best lawn mower you can ride? Get the Ego Power+ Z6, pronto!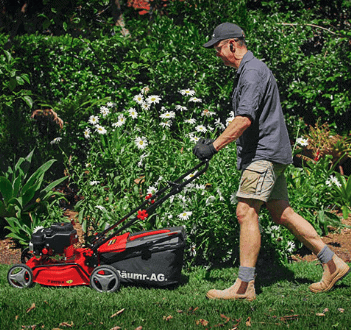 | | |
| --- | --- |
| Baumr-AG 720SX 4-Stroke Petrol Lawn Mower | $329 |
21kg | Seven mowing height settings
If you're looking for a petrol mower, the Baumr-AG 720SX is it. It has large wheels for easy manoeuvering, and a 4-stroke engine for power. Its torque speed hits 3,000rpm, while you can adjust the cutting height to 7 different levels. Starting it may be a challenge, but once it's up and running, it's good to go.
The Baumr-AG 720SX is great for small lawns, with a grass catcher capacity of 45L. It features top-class performance alongside value for money, although it's a little bit bulky. Still, you'll definitely stand out while mowing the lawn with its classy red finish.
In the market for a petrol mower? Look no further than the Baumr-AG 720SX.
Best Self-Propelled Lawn Mower: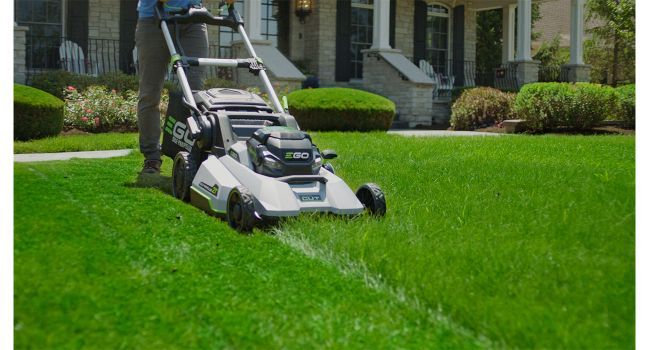 | | |
| --- | --- |
| EGO LM2135E-SP Cordless Brushless Self-Propelled Lawn Mower | $1,249 |
Folds for compact storage | 2-in-1 function: mulching and bagging
It's a large investment, but if you have a large lawn, the EGO LM2135E-SP is well worth the price. Its 56V battery provides up to an hour of runtime, with a large 520mm cutting width and 70L grass collector. In terms of battery-powered mowers, this gives great value for money.
The EGO LM2135E-SP is a little heavy for a cordless mower, but it blows most petrol models away with its power and performance. The mower has 3 mowing modes with 7 cutting heights, including a mulching function and rear discharge.
For an electric mower that keeps your lawn healthy, the EGO LM2135E-SP is your friend.
Best Cordless Lawn Mower: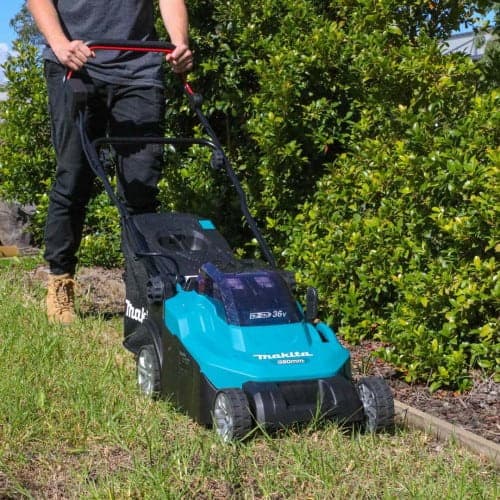 | | |
| --- | --- |
| Makita DLM382Z Cordless Lawn Mower | $409 |
16.8kg with battery | 13 cutting height adjustments
As far as cordless mowers go, you can't go wrong with the Makita DLM382Z. It has 13 cutting height settings, and is suitable for lawns up to 560sqm. The grass container can hold up to 40L of cuttings, and the model comes with a mulch plug as well.
The Makita DLM382Z has a cutting width of 380mm, and a max noise level of 81db. Its no-load speed is 3,700rpm, and you can adjust the blade between 20–75mm in height. All this makes it an excellent choice for small lawns.
It's important to note, though, that the battery and charger are sold separately. Fortunately, if you already have Makita LXT 18V batteries on hand, you can use them for this model.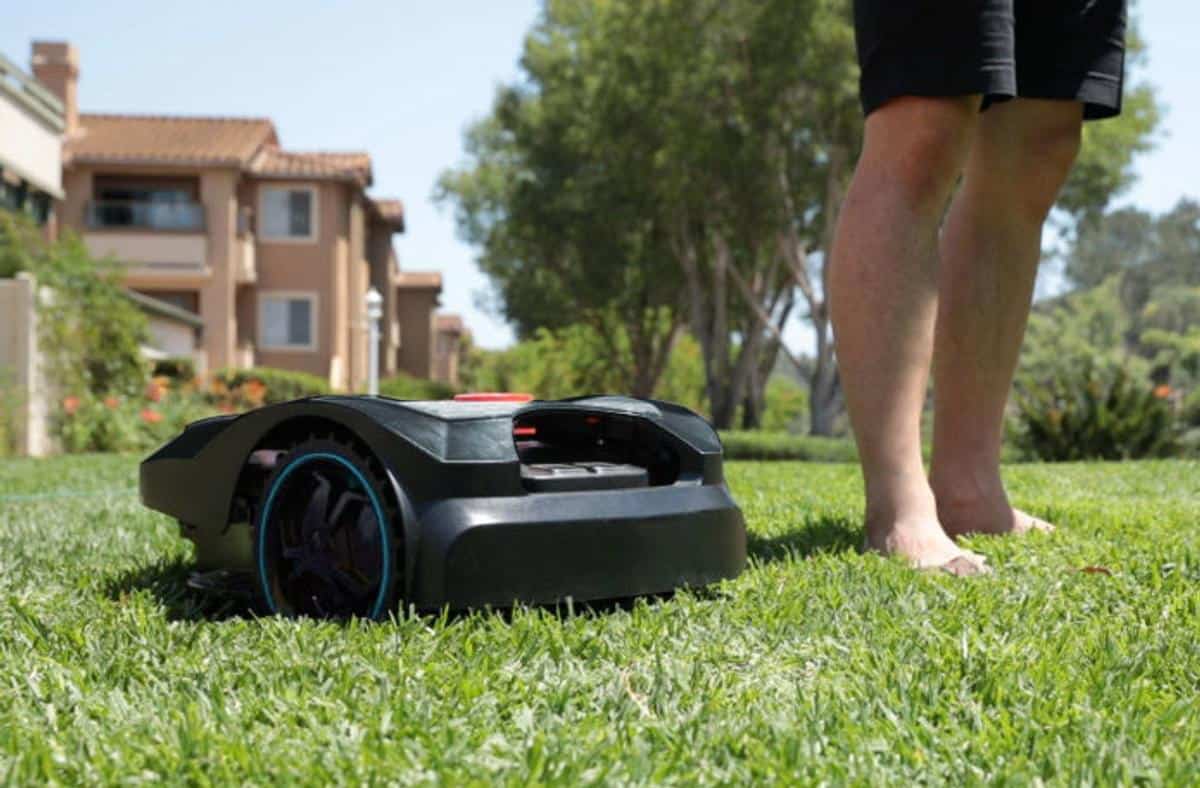 | | |
| --- | --- |
| Swift RM18 Robot Mower | $799.99 |
Bumping sensor and treaded wheels | PIN code for theft protection
Robot lawn mowers are on the rise, just like robot vacuum cleaners. If you want a more hands-off approach to lawn mowing, get the Swift RM18. It has an automated working and charging cycle, so it does all the work for you.
The Swift RM18 also has a bumping sensor and treaded wheels, so it can climb gradients up to 20º and go around obstacles. It also has a cutting width of 180mm and a height of 20–60mm. Just set up your lawn size (works up to 600sqm) and let it go!
With Samsung's battery power, this little model sure packs a punch.
Best Brushless Motor Lawn Mower: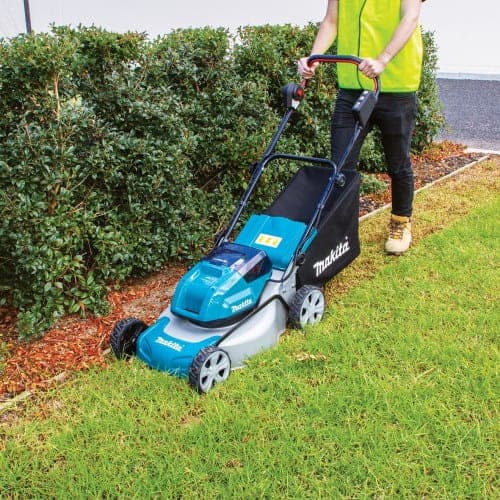 | | |
| --- | --- |
| Makita DLM464PG2 Cordless Brushless Lawn Mower | $869 |
27.4kg with battery | Quiet mode for lower noise output
If you want a high-powered brushless motor, then Makita makes some of the best. The DLM464PG2 has up to 3,300rpm on its motor, with an additional quiet mode at 2,500rpm for a lower noise output.
This Makita model features 10 different height adjustments from 20–75mm, with a 460mm max cutting width. Its 60L grass box capacity means it's suitable for a larger lawn, up to 800sqm. It also features Makita's standard 36V (18V x 2) batteries.
Ready to power your way across your lawn? Pick up a Makita DLM464PG2!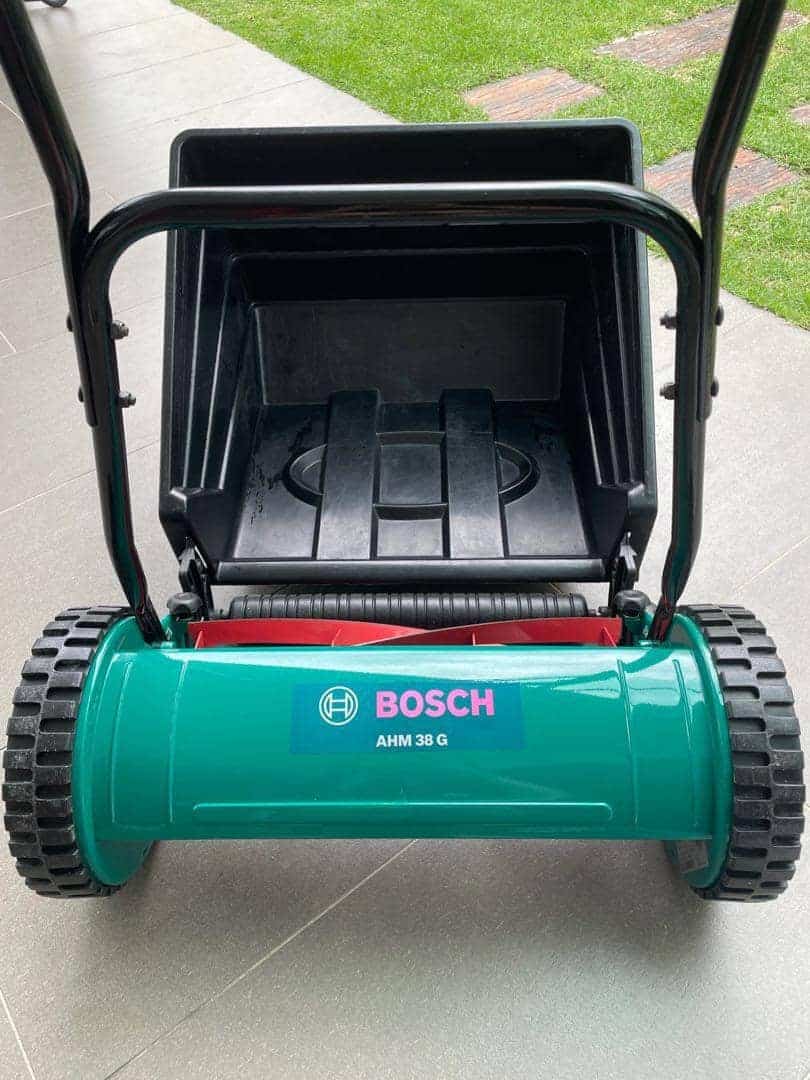 | | |
| --- | --- |
| Bosch AHM 38 G Manual Garden Lawn Mower | $119 |
Very lightweight | Clean and precise cuts for small lawns
For those of us who like traditional push mowers, the Bosch AHM 38 G is our best pick. It's ideal for small gardens, which need less time and effort to maintain. Don't be fooled by its simplicity – it's highly efficient, and can even create lawn stripes.
The Bosch AHM 38 handles easily with its lightweight body (7.0kg only!). It also has high-gear side wheels which will allow you to manoeuvre easily. However, it does have a smaller width for cutting and can't mulch grass as you mow. 
If you're looking for a more cost-efficient model or don't want to deal with petrol fumes, this manual mower is what you're looking for.
What to Look For in a Mower?
It's important to check your preferred model from top to bottom to ensure it's the right fit for you. For the best lawn mower, there are plenty of factors to consider, such as:
Performance:

Check engine type, capacity, and size. Different mower models can tackle different lawn sizes, so look for a model that can work with your lawn's size and type.

Durability:

Ask about the average lifespan of the mower you're eyeing, and about replacement parts. Your mower is an investment – you'll want one that lasts a long time.

Push or Self-Propelled:

Do you want the more traditional push type, or would you rather just guide your mower along? If you have a flat or small lawn, then manual mowers may be more value for money. Meanwhile, self-propelled models are more suited to hilly or larger lawns.

Function:

Does the model come with a mulching attachment? Can you pause without needing to restart, and is the cutting height easy to adjust? You might have to pay more for better features, but it'll sure make gardening easier.

Lawn Type:

Do you have thicker grass? Do you let the grass get long, or regularly trim it? How large a space do you have? These will all determine the specs you need to look for.
Best Lawn Mowers in Australia
Whether you're getting battery-powered motors or manual push mowers, this best lawn mower Australia list is your friend. Run through the things to look for in a mower, then choose the one that best suits you and your lawn. After that, it's simply a matter of putting in the work – or asking a professional mowing service to do it – and enjoying the smell of newly-cut grass when you're done!