We all know how hot summer down under can be – the Aussie sun is brutal! In times like those, a shade tree in the garden sounds lovely. Meanwhile, ornamental trees are great for making a colourful statement. And for those of us who can't wait for our trees to establish themselves, a fast growing tree is heaven-sent.
Of course, you won't get a tree in your garden in only a year or so – but these species will grow and reach maturity more quickly than other trees. Some prime examples of fast growing trees are the Japanese maple, dwarf lemon-scented gum or dwarf flowering gum, and the Tahitian lime. You can also grow tall shrubs such as native frangipani or grevilleas.
Do you need a fast growing tree in your garden for some colour and foliage ASAP? Here are some of the best examples to grow – plus some bonus shrubs, too.
Fast Growing Gum Trees
Gum trees are part of the myrtle family, with 12 distinct species. They're called "gum" because of the thick sap that comes from the trunk whenever the bark breaks. Gum trees are indigenous to Australia.
One popular species of gum tree is Eucalyptus, or the blue gum tree. For a fast growing tree, here are two!
1. Lemon-scented gum
This tree has a distinctive white or pink trunk, with alluring lemon-scented leaves. This gum variety can grow up to 35 metres tall, although it will be smaller in cultivation. However, its strong roots mean you should plant it away from structures.
This tree likes full sun, and will thrive in well-drained soil. It does not tolerate frost while it's young.
For fast growing garden trees – especially for large gardens – the lemon-scented gum is one of your best options. Its fragrant white flowers and unique scent make it an attractive ornamental for your yard.
2. Dwarf flowering gum
These are Corymibia ficifolia, with different varieties available. For stunningly coloured flowers on fast growing trees, check out the 'Summer Beauty' (pink) and 'Summer Red' (red) varieties. They can reach around 6.0 metres tall, and flower in the summer.
Dwarf gums grow best in full sun, but will tolerate partial shade. Mature trees are drought tolerant. Do not grow them in heavy clay soils or other types that retain water easily.
Fast Growing Rainforest Trees
The tropical rainforests of Australia are home to any number of trees and plants, many of which you can grow right in your backyard! They like warm, humid environments, while many are low-maintenance. Best of all, they're practical – meaning they're more than just garden decoration!
1. Lemon-scented myrtle
Backhousia citriodora or the lemon-scented myrtle is a gorgeous tree with clusters of white-yellow flowers. When it rains, or when you crush the leaves, the tree releases a heady citrus aroma. In gardens, it can reach up to 8.0 metres in height.
Plant your lemon-scented myrtle in slightly acidic, well-drained soil. It likes sunny spots, but can tolerate partial shade. They're better propagated from cuttings or seedlings, so check your local nursery. The plant also has multiple uses, from lemon myrtle tea to cooking.
2. Blueberry ash
Elaeocarpus reticulatus does indeed have blue berries, although they're not really meant for human consumption. These evergreen trees grow blue berries after their white flowers have wilted.
The blueberry ash is a small tree (or tall shrub – it could go either way) and is one of many Australian native plants. It's very low maintenance and thrives best in sandy or loamy soils, with full sun to partial shade. You'll need to trim them frequently if you use them as hedges (TIP: Get a gardening service to help you out!).
Fast Growing Shade Trees
These trees are excellent choices if you want sprawling foliage, with sunlight streaming through to dapple the ground underneath. They're also great at providing shelter for any shade-loving plants on the ground below!
1. Japanese Maple
For a glowing autumn colour in your garden, look no further than the Japanese maple. Few sights are as stunning as its red, orange, and gold foliage on an autumn afternoon. It's one of the best ornamental trees for a garden – and provides plenty of shade, too!
This is a bit of a finicky tree, since it needs sun for the best colour, but too much will cause the leaves to scorch. Conversely, too much shade and the foliage won't be as vivid. "Dappled shade" is the best. You'll also need to keep it out of any strong winds!
2. Tahitian Lime
This citrus fruit tree prefers tropical climates – so plant it somewhere warm and sunny. You'll love it for its glossy, deep green leaves that contrast the fragrant white flowers – and of course, its delicious green fruits. Tahitian lime bears fruit year-round, so you'll have a constant supply of refreshing citrus whenever you need some.
Tahitian limes need regular watering while they're establishing, but mature trees can take drought. Ensure your tree is in well-drained soil – this plant doesn't like wet feet!
3. Cercis 'Forest Pansy'
Also known as the "purple redbud", this breathtaking tree features leaves that are purple-tinged-green through summer. They become gold and peach in autumn, before falling to reveal a sleek silhouette. Then you can welcome spring with a burst of purple-pink flowers.
You can grow a Forest Pansy in most soils, but it won't tolerate prolonged drought or wetness. At maturity, it will reach 5.0 metres tall and 5.0 metres wide.
Fast Growing Privacy Screens
Trees and other plants (such as fast growing climbing plants) make excellent privacy screens for your garden. These varieties in particular will grow quickly, letting you keep out nosy neighbours from peeking into your yard.
1. Grevilleas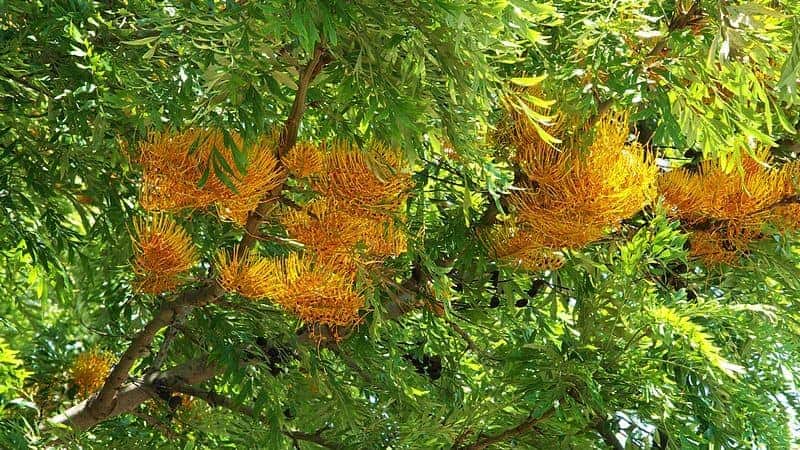 These native shrubs are also known as spider flowers, and if you've seen them then you'll know why. Just know that if you grow a grevillea feature tree, you need to be ready for some busy-buzzy and feathery friends dropping by for a sip!
Grevilleas love the sun but need shelter from strong winds. Frost and drought tolerance will vary between species, so check with your local nursery beforehand. Try to grow them in a raised garden bed so that the soil drains freely.
Some varieties to grow include the Grevillea 'Superb', 'Elegance', 'Moonlight', and 'Peaches and Cream'.
2. Frangipani
These are denser than grevilleas, and can grow up from 6.0-8.0 metres high. Native frangipanis have shiny green leaves and creamy yellow flowers. This fast growing tree can thrive in sun to partial shade – but for best growth, keep it out of the afternoon light.
You can plant frangipanis anywhere in your garden, even near structures like pools! They like sandy soil, but can grow anywhere that's free-draining. They're good with the salty air of a coastal area, but don't like frost.
Caring for Fast Growing Trees
Most trees will need regular watering while they're establishing themselves, so that the root ball doesn't dry out. Mature trees need less frequent watering – let the moisture sink in deep, with more time in between.
Keep your fast growing tree in well-drained soil (although make sure it still retains some moisture!).
If you're growing your tree as a privacy hedge, make sure to prune it regularly.
Note that because these trees mature earlier, they also have shorter lifespans.
Once you've planted your seed or seedling – that'll depend on the type of tree – simply sit back and wait (im)patiently for it to grow! Then soon enough you'll have a beautiful feature tree for your garden.