You never get a second chance at a first impression – which is why your front yard fence is such a crucial aspect of your exterior decor.
Whether it's the typical white picket fence, rustic fence walls, or even a masonry front fence, your frontage will add personality to your yard.
There are different kinds of front yard fence ideas, depending on the materials you use.
Wood fences (especially a white picket fence) are popular, as are metal fences. For a tougher fence, go with stone or masonry. Meanwhile, for a green screen, choose hedges or large plants. And, of course, there's the low-maintenance vinyl fence!
Want to maximise your curb appeal and make a statement? Here are 5 of the best front yard fence ideas.
What Are Your Yard Fences For?
Three things: Decoration, Security, and Privacy.
Your front yard fence design can define your home's curb appeal. Front yard fences help frame your front lawn or garden and highlight landscape design.
The best yard fence ideas can portray your personality and make your home more attractive.
Of course, yard fence design ideas aren't just for aesthetics. They secure space and outline the boundaries of your property. A front fence can also keep pets from escaping and little kids safe within your lawn.
Meanwhile, a privacy fence acts as a screen that blocks people's view into your home.
The purpose of your fence will affect the materials and design you use. A tough fence is better for security, while a white picket fence is an aesthetic statement. As for privacy fences, plants and foliage are more common choices versus manufactured structures.
Front Yard Fence Guidelines
Before putting up any yard fence, check with your local council for requirements!
You may need to file building permits and application forms, alongside any site plans and construction details. Make sure your yard fence design complies with local building regulations.
You'll also need to talk to your neighbours – your fence will affect their property, so they'll have to approve any plans before construction.
Best Front Yard Fence Ideas
The design of your yard fence will depend on the architecture of your home and the fence materials you choose. If you're looking for a fence idea for your front yard, here are a few!
1. Wood fences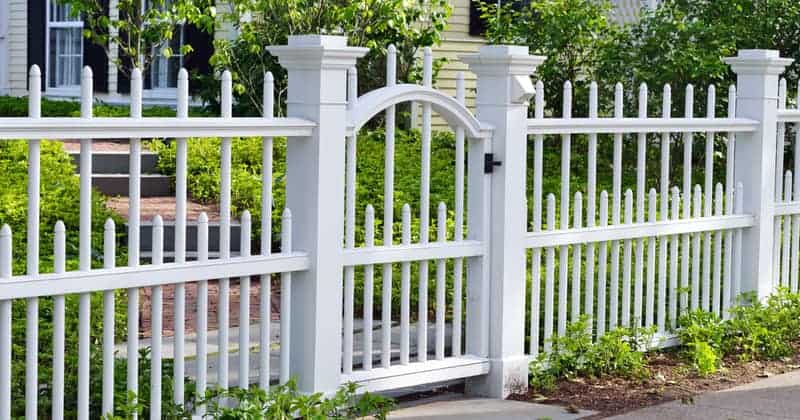 The most common wood fence would be the classic picket fence – especially in white. But picket fences aren't your only option for wood fence ideas.
Natural wood is excellent for front yard fence ideas since it's inexpensive yet aesthetically pleasing. It's a flexible fencing option, and can act as a privacy enclosure.
The type of wood you choose goes a long way to adding classiness to your front yard.
The biggest disadvantages of wood fences are maintenance. They may warp over years of exposure to weather and wetness and must be maintained accordingly. They also provide much less security than other options.
2. Metal fences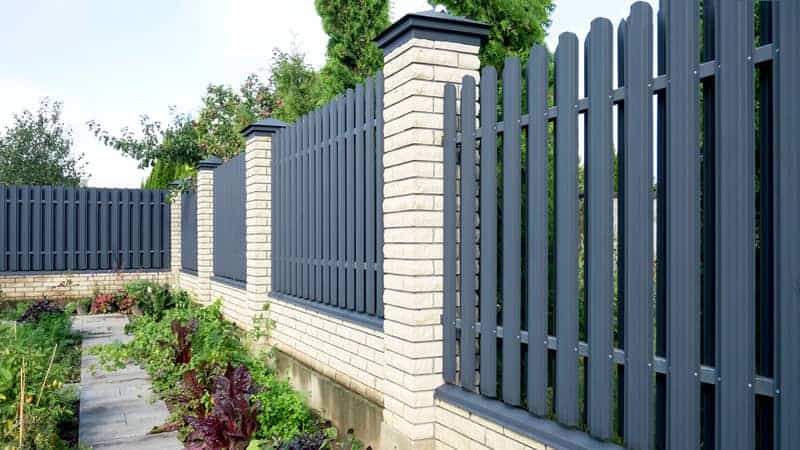 Metal fences are more robust than a wood fence, and are flexible enough to match a variety of aesthetics.
You can have a contemporary design or a more formal wrought-iron fence. Then you can have the metal painted to match your home's exterior – or stick with sophisticated black steel.
One advantage of metal fencing is security. You can have it designed with pointed finials for added protection, and can make the metal panels as thin or thick as desired.
Maintenance is simple enough – just ensure they're coated in anti-rust paint!
3. Privacy hedges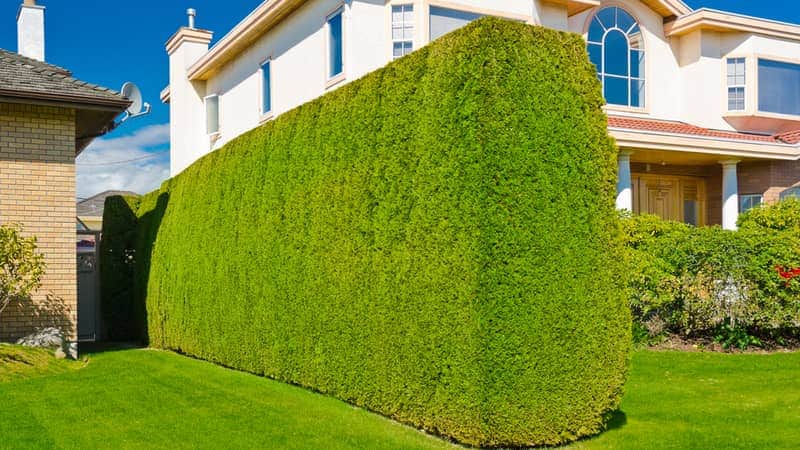 If you'd rather "grow green," then hedges are the way to go for fencing.
One of the most environmentally-friendly yard fence ideas is Japanese hedge bamboo. It grows in clusters, is non-invasive, and can reach 3.0m in height. Not to mention, it looks fantastic!
If you prefer a more traditional hedge look, then Murraya paniculata and Italian cypress are popular for their green foliage.
You can also opt for Fiji Fire for a unique aesthetic. Just remember to trim them regularly (or get a trimming service to help out).
For less permanent options, grow large plants in pots! Create a living wall with plants like boxwood or golden cane palm. They'll also do an excellent job as a privacy screen.
4. Stone fences and solid masonry columns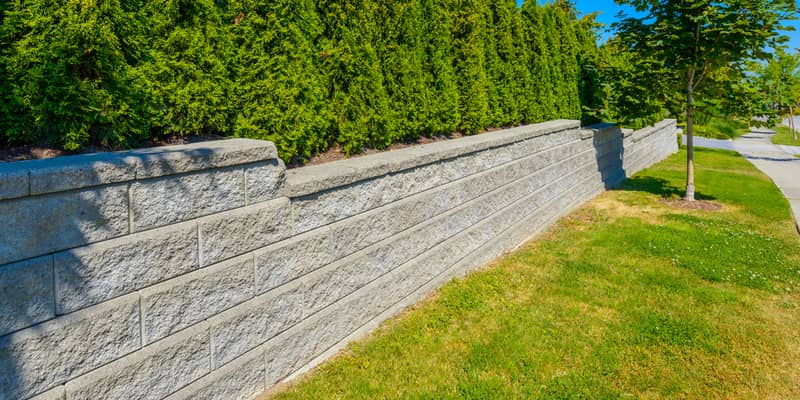 A solid stone fence takes time and effort to build, but the result will be worth it.
Using natural elements adds a certain beauty to a front yard fence design. Stone or masonry features can be carved or decorated in a way that complements your house's exterior design.
A low stone wall makes a good yard fence, but you can up the ante by adding wrought iron fencing or wooden slats on top.
No boring fence here – just smooth concrete blocks with decorative wood or metal slats in between.
5. Vinyl fences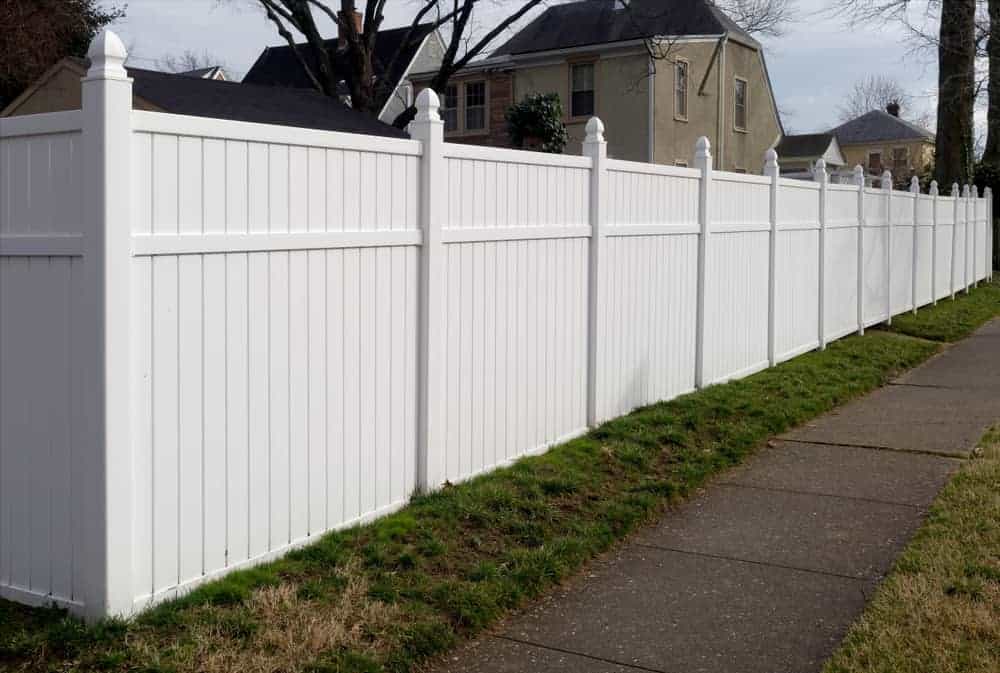 If you want to mimic different wood textures but don't want the difficult maintenance, opt for a vinyl fence.
Vinyl fences won't need repainting or touch-ups, but weather conditions may lead to you changing the vinyl material if it warps.
If you're working with a vinyl fence, buy 100% pure vinyl. There's a type made from recyclable materials that will be cheaper, but it fades and cracks more easily.
There are other design ideas for your front yard fence, but these options will give you fantastic street appeal.
Your yard fence design and house painting are the first things people see when approaching your home, so don't skimp on the execution! Make that first impression count – from the outside leading in.