Climbing plants are so dreamy, I'm tempted to start this article with 'Once upon a time…'
Where you find the likes of wisteria, grapevines, and banksia roses, romance is sure to follow. These plants are the touchy-feely sort. Give them a wall, trellis, or post to lean on and they'll be all over the place.
They come in stunning forms, such as cascading curtains, privacy shades, and flowing canopies. Flowering and fruit-bearing climbers, in particular, transform the dreariest gardens and bring them to life.
Types of Climbing Plants
There are several ways to categorise climbing vines and plants.
They have different characteristics, such as twining stems or sticky feet. And there are also climbers that are native to Australia.
Twiners
Twiners have flexible stems that twist around posts, poles, and other thick structures. They can also wind themselves around trees.
Take care that your support structure is thick enough to hold twiners. Wisteria and other large twiners can overwhelm smaller trees and crush them.
Tendrils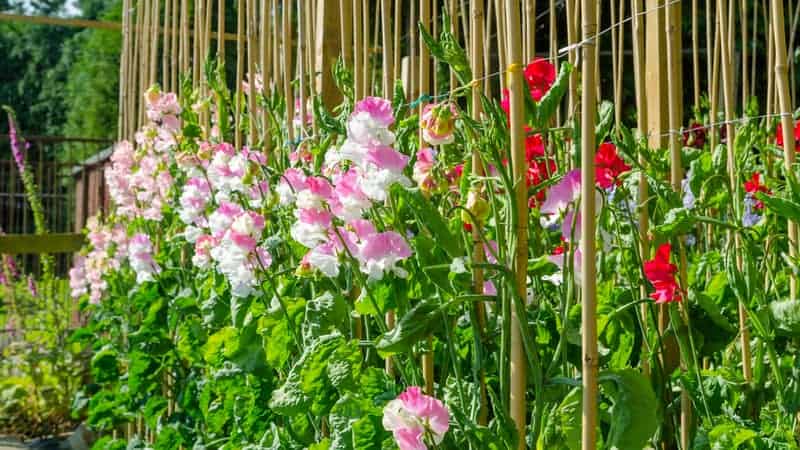 Tendrils are climbers with small coil-like structures near their leaves. These are perfect as ornamental plants because of their decorative springs.
Popular examples of tendrils include grapevines, plants from the gourd family, sweet pea, and passion flowers.
Scramblers
Without proper support, scramblers can be messy to deal with. But give them a wall, trellis, or pergola, and you'll have a beautiful draping curtain of foliage and flowers.
Climbing roses and bougainvillaea are two common scrambling plants.
Sticky feet
Much like how a tentacle works, sticky feet plants have suction-like parts or dense roots that stick to surfaces.
They have a tendency to damage painted walls and timber surfaces over time, and can burrow into crevices.
Don't write sticky feet plants off just yet, though. Climbers like the creeping fig are perfect for giving coverage to a dilapidated or unattractive wall.
Australian native climbing plants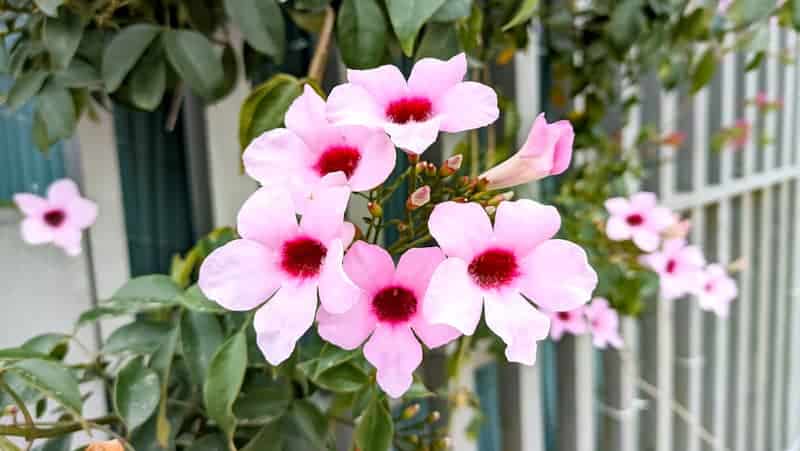 While some climbing plants originate from South America and other parts of the world, there are climbers and creepers that are native to Australia.
Most Australian native climbers, like the false sarsaparilla and Bower vine, enjoy warmth and sunlight. They are easy to grow on local soil types and adapt well to our weather conditions.
Best Fast-Growing Climbers in Australia
Fast-Growing Climbing Plants for Pergolas
For those who have pergolas in their gardens, climbers are one of the best ways to add a gorgeous aesthetic touch to the structure. Here are some climbers to grow on pergolas.
Chocolate vine (Akebia quinata)
Also called akebia and chocolate creeper, this deciduous climber produces a purplish pink flower that smells like chocolate or vanilla.
The vines of the akebia are best suited for gardens with trellises and pergolas. Akebia flowers are also great when trained to grow over fences.
To care for your akebia, give it partial shade and allow it to grow in well-drained loamy soil. Regular pruning is important to prevent it from overpowering other plants in your garden.
Grapevine (Vitis vinifera)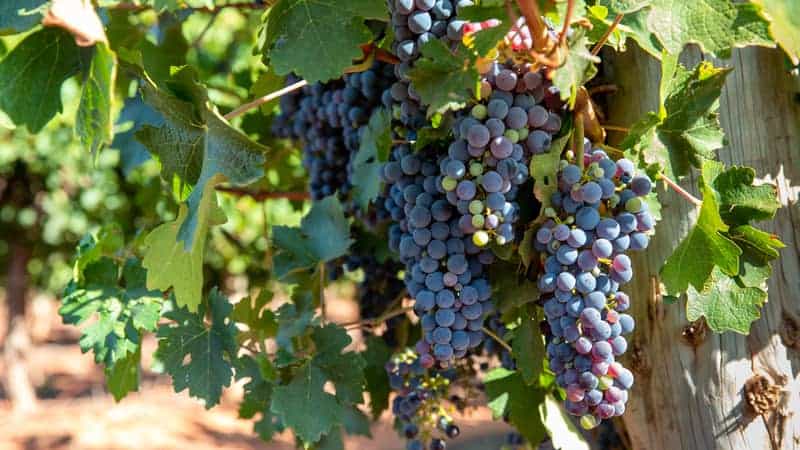 The grapevine is one of the best climbing plants around. These tendril climbers have beautifully-shaped foliage that changes colour during autumn.
If you've chosen a fruit-bearing variety, you'll be lucky enough to harvest grapes during the summer months.
You can train to grow them in pergolas or wired fences to provide beautiful summer shade and a canopy from the winter sun. They make good ornamental plants to adorn entrances with.
Grapevines grow well when in a sunny position and love well-drained soil types. Pruning is best done during winter to prepare the wood for fruit-bearing.
Bower vine (Vine pandorea)
The Bower vine is a beautiful plant native to Australia. It has distinct pink and white flowers and is known by its other names: bower climber, bower of beauty, and Pandorea.
These vines do not form a thick dense cluster, but instead spread gracefully. They're easy to grow and ideal to place on pergolas and home entrances as their flowers are very fragrant.
They can also be used as attractive screens in your garden.
Bower vines thrive best under partial shade to full sun and grow well in enriched slightly alkaline soil.
Fast-Growing Climbing Plants for Fences
Fences might look a little plain, but you can grow climbers to add natural ornamentation. You'll need to train these plants to climb up the fence, but the effort will be worth it.
Creeping fig (Ficus pumila)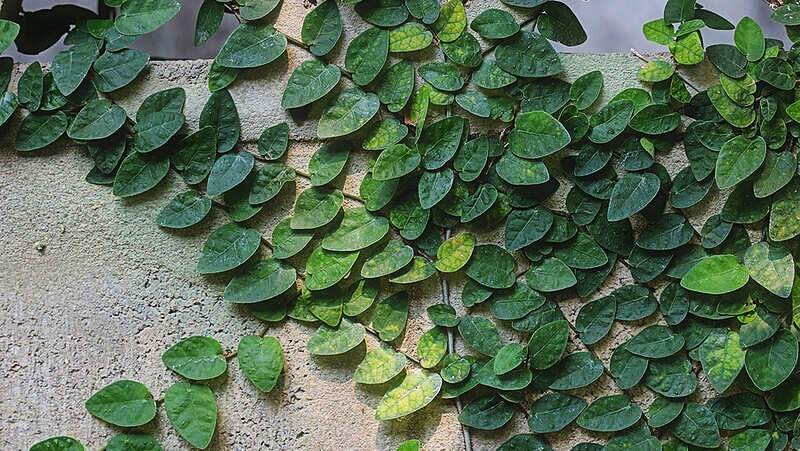 The creeping fig is an evergreen climber that grows best on sturdy support such as walls, fences, and rocks. As a sticky feet climber, creepy figs are recommended to grow on unpainted surfaces.
These climbing plants grow best in free-draining soil and love full sun. Regular pruning keeps the creeping fig under control and ensures that the foliage looks tidy.
Orange trumpet vine (Pyrostegia venusta)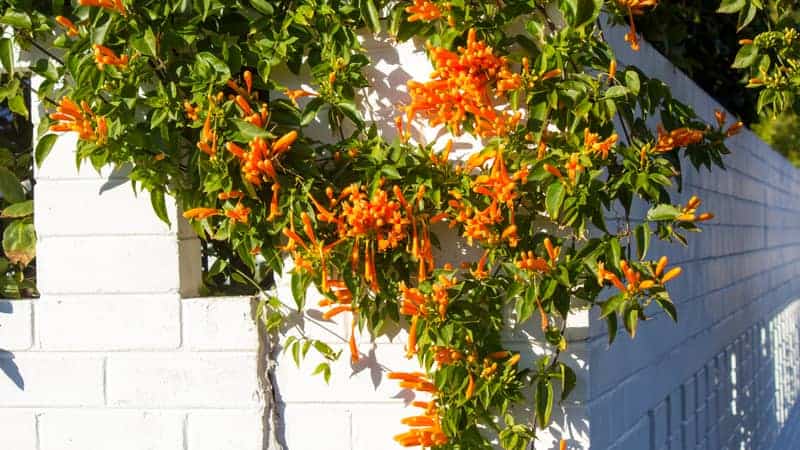 Also called the flame vine, the orange trumpet creeper is an evergreen flowering vine that's too striking to ignore. It has stunning orange blooms that stand out against dark green foliage.
This tendril climber thrives well under full sun and blooms stunning red-orange flowers during mid- to late winter. Orange trumpet creepers can be trained to grow on sheds and wire-mesh fences.
Fast-Growing Climbing Plants for Arches
What's more beautiful than flowering vines trailing down from arches? If you need climbers for arches in your garden, here are some beautiful options.
Banksia rose (Rosa banksiae)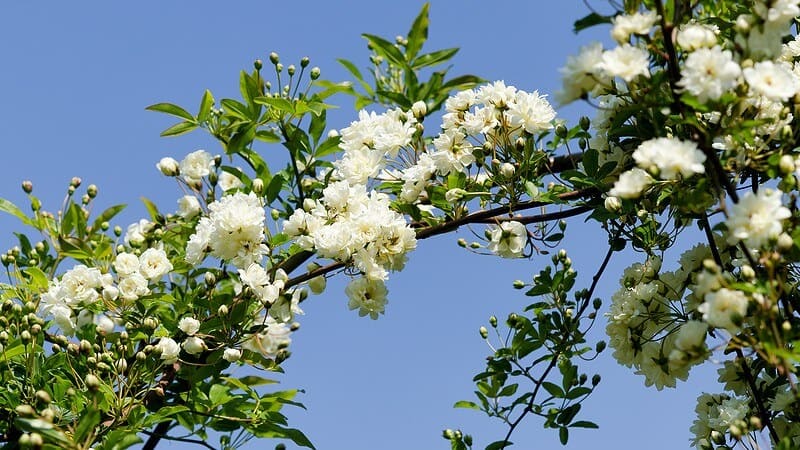 These climbers have small fern-like leaves and white or yellow flowers that come in clusters. Banksia roses grow quickly and can cover a wall in no time.
They're breathtaking when mounted on a trellis, pergola, archway or tall white picket fence. Homeowners also love that these flowering plants are thornless. This makes banksia roses easy to prune and safe to keep when you have children and pets running around your garden.
Don't let the canopy of delicate-looking flowers fool you. Banksia roses are hardy and can tolerate full sun. They're resistant to a lot of diseases and grow well in most soil types.
Banksia roses love being cultivated in well-drained soil enriched with organic matter. Prune them after flowering at the end of spring or during early summer so you can still enjoy their abundant blooms.
Rocktrumpet (Mandevilla)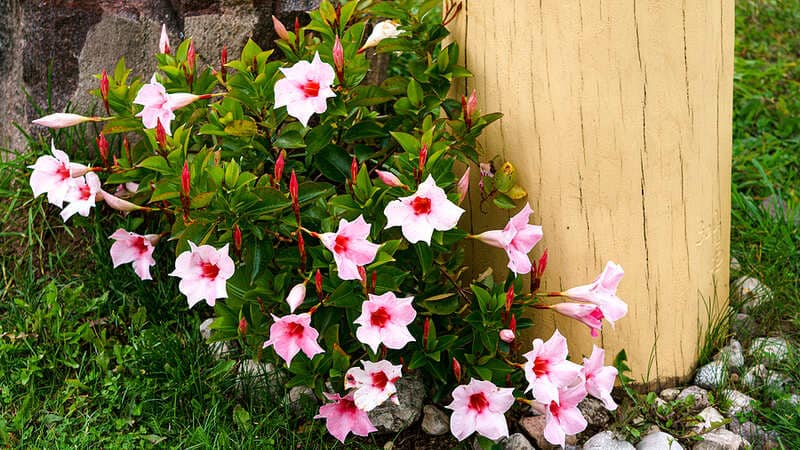 Mandevilla is an evergreen vine originating from South America. This climber can tolerate full sun in colder climates and thrives best under bright indirect sunlight in warmer areas.
Use moist well-drained soil enriched with humus to grow this climber.
These plants are fairly easy to maintain in Australia. In warm weather, it is best to allow your rocktrumpet time to soak filtered sunlight for at least 6 hours. You can provide shade in the afternoon when the weather is hotter.
When properly cared for, this flowering plant will give you brightly-coloured pink blooms.
Mandevillas can be placed on hanging baskets or tall archways that are hard to reach, as these plants are toxic to plants and animals.
Climbing Plants with Flowers
Climbing vines are pretty on their own, but when they produce flowers, they're a stunning sight.
No matter where you're trying to grow these climbers, they'll look beautiful.
Bridal wreath (Stephanotis)
The bridal wreath is a fast-growing climber that produces fragrant white flowers in summer.
These vines can grow up to 6 metres and are best supported by a trellis.
Stephanotis plants thrive well in high humidity and warm weather.
Passionfruit (Passiflora edulis)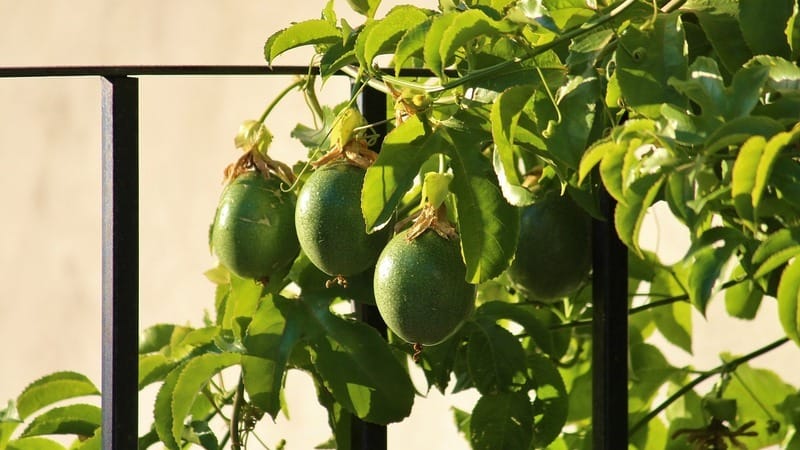 The passionfruit plant is a fruit-bearing climber that produces white and purple flowers. The green edible fruit has a wonderful sweet and tart flavour that's distinct among tropical fruits.
Passionfruit loves moist, well-drained soil and prefers full sun or light shade. These climbing plants have tendrils and grow fast on lattices and pergolas.
Wisteria (Wisteria chinensis)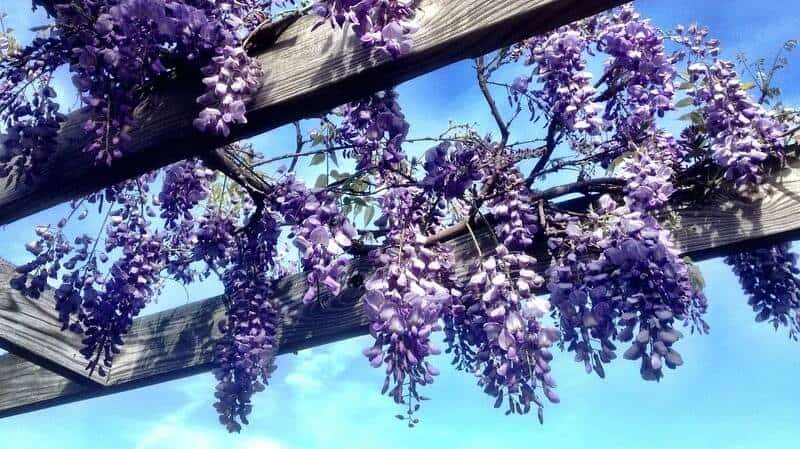 You won't get impatient waiting for your wisteria to grow on your fence or pergola.
This twining climber can quickly reach up to 3.5 metres in one growing season. Hard to miss because of their massive floral clusters, wisterias thrive best under full sun.
One of the most prolific plants around, wisteria can grow out of hand if over-fertilised.
They're perfect when positioned over pergolas in your garden to provide summer shade and winter sun.
Climbing Plants for Pots
Even if you don't have that much space, you can still have a "climber."
They'll still add heaps of colour and vibrance to your home.
Baby bougainvillea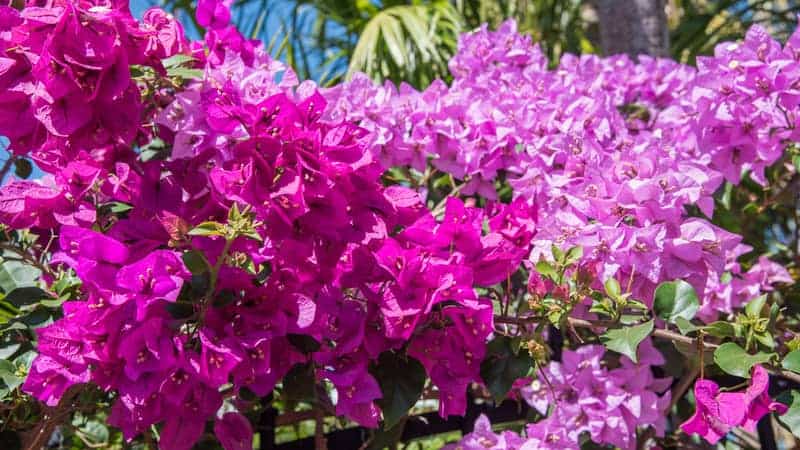 Now here is a fast growing climbing plant that's not scared to go big despite its small size. Not necessarily a climber, the baby bougainvillaea species is hardy and gives a burst of vibrant colour.
Also called bambino, dwarf bougainvillaea, and paper flowers, this head-turner does not shy away from full sun and loves Australian weather. In fact, that's when it shines its brightest.
While some bougainvillaea species can climb as vines, the bambino can flower well in a pot, reaching its peak height of 1.5m – 2m. Gardening experts also train bougainvillaea to grow as bonsai.
Regular pruning after the flowering season ensures that your vines or shrubs will have lush blooms.
All eyes are drawn to this plant with fierce purplish red foliage, sharp thorns, and a bold personality. There are also varieties that produce tangerine, white, lilac, and red colours.
Whatever colour you choose for your bougainvillaea plant, you can be sure it's going to give your home maximum impact.
Fast-Growing Wall Climbing Plants
Want to add a quaint, rustic touch to your home's facade? Grow wall climbers!
Boston ivy (Parthenocissus tricuspidata)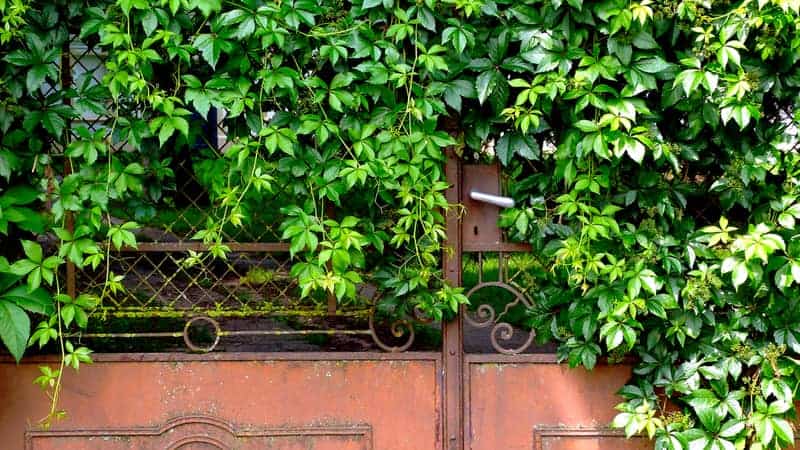 While the other plants on this list will send you swooning, the Boston ivy is a well-loved icon among academics. It is the namesake of 'Ivy League' and is famous for growing on the walls of prestigious universities.
This deciduous climber has leaves turn from lush green in summer to reddish brown during fall. You can grow them under partial shade or full sun.
Boston ivy vines are ideally grown on walls, as ground cover, and over trellises or pergolas. Take care not to train them near trees, however. Boston ivy can be overwhelming and outcompete trees for photosynthesis.
Star jasmine (Trachelospermum jasminoides)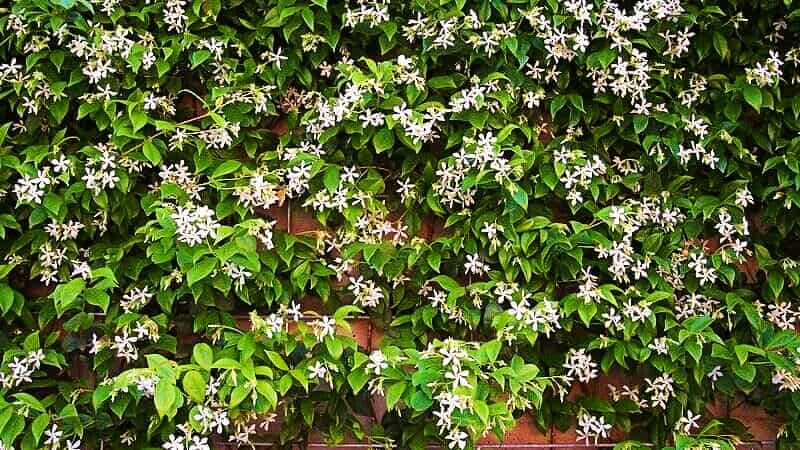 This twining evergreen climber is an easy plant to keep and is completely at home in Australian weather. It does well under partial shade to full sun, and grows best in free-draining soil.
When properly cared for, the plant produces small white flowers that fill the air with a sweet floral fragrance.
If you're looking for a versatile climber that you can use on pergolas, fences, arbours, or lattices, the star jasmine is the right plant for your garden.
You can even use it as groundcover to fill in bald spots in your garden.
Australian Native Climbing Plants
False sarsaparilla (Hardenbergia violacea)
The false sarsaparilla is a native Australian climbing plant that has purplish pink flowers that bloom during winter.
It's also commonly called the happy wanderer, native lilac, purple coral pea, and waraburra.
This evergreen climber has dark green foliage that enjoys partial and full sun. It can also be grown in greenhouses or indoors near a big window under full daylight.
Maintaining Fast-Growing Climbing Plants in Your Garden
Fast-growing plants are notorious for their larger-than-life presence and over-the-top appearance.
There may be times when you feel overwhelmed when caring for your beloved climbing plant. This can happen especially when your plant grows faster and bigger than you could have anticipated.
Don't let the challenges of maintenance stop you from enjoying your climbers!
Hiring professional gardeners gives your vines the maintenance they need while giving you the utmost convenience. Your local gardening service can also take care of your plants' regular pruning and fertilising so you don't have to.