One of life's most beautiful sights is a lush lavender field, stretching out towards the horizon. If you're in Australia – especially during the summer – it's a must to visit at least one of the many, many lavender fields across the country.
Many of these farms are open year-round, and feature cafés and shops where you can try lavender delicacies and products.
Check out these best lavender farms in Australia:
Get that picturesque Instagram shot and learn about one of the world's most popular shrubs.
Here are some of Australia's best lavender farms to visit (at any time of year).
When is Lavender in Season in Australia?
The best time to visit lavender farms in Australia is December through January! This is the peak season for lavender, since many types are in full, gorgeous bloom in summer.
However, most lavender fields in Australia are open year-round, with some varieties of lavender blooming in spring or even winter. So any of these farms could be a destination for you and your family or friends during any month of the year.
Lavender Farms in Tasmania
The sunny summer climate of Tasmania makes the state one of the best places to be during lavender season.
The plants found here rival even lavender from Provence, with acres of farms available to explore.
Bridestowe Lavender Estate
Business Hours:

9:00 AM to 5:00 PM
Operating Days:

Monday to Sunday

(inc. public holidays except Christmas Day)
Address:

296 Gillespies Road, Nabowla TAS 7260
Bridestowe Lavender Farm is one of the most popular farms in Australia. It's also the largest privately-owned farm in the world, holding over 600,000 plants across 200km. (Don't get lost while you're there!)
The estate is less than an hour's drive from Launceston, and features mostly true French lavender. Bridestowe sets aside a portion of the lavender harvest for drying, then distils the rest for their oils.
Run your fingers through rows and rows of fragrant lavender, or book a tour to explore their lavender processing facilities. They also have a café that serves lavender-inspired delicacies — even ice cream!
Port Arthur Lavender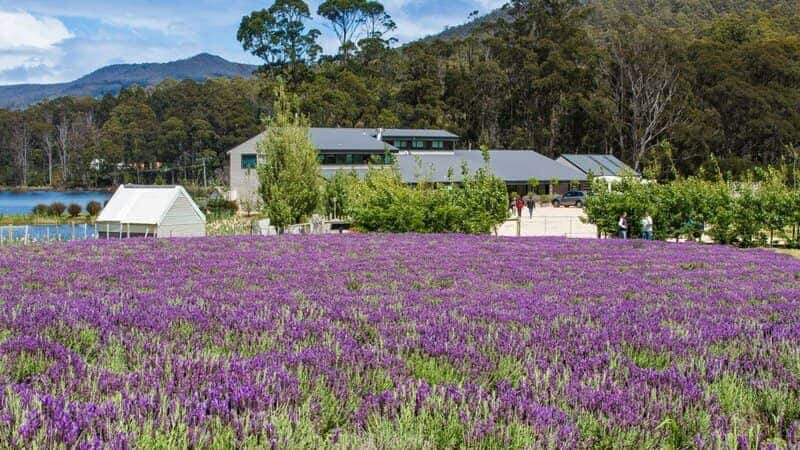 Business Hours:

10:00 AM to 4:00 PM

(9:00 AM opening from January to Easter)

Operating Days:

Monday to Sunday

(inc. public holidays except Christmas Day)

Address:

6555 Arthur Highway, Port Arthur, Tasmania, 7182

Phone:

(03) 6250 3058
This family-owned business is run by the Tasmanian Lavender Company. The Dean family first opened their doors to the public in 2012. Port Arthur Lavender followed in 2014.
Tasmanian Lavender Company grows and harvests over 16,000 lavender plants a year from both Port Arthur and Pawleena.
At the Port Arthur lavender farm, you can experience everything from meals made with Tasmanian produce to free self-guided tours.
If you're feeling adventurous, try their popular lavender-infused fudges at the cafe. And of course, visit their shop in Richmond for their handmade lavender products.
Lavender House – The Perfumery
Business Hours:

10:00 AM to 4:00 PM
Operating Days:

Every day except Saturday and Monday
Address:

32 Waterton Hall Rd, Rowella TAS 7270
Tucked away in the beautiful Tamar River Valley, Lavender House is the only working perfumery in Tasmania. Its doors have been open for over 30 years, welcoming locals and tourists alike.
While the main feature of Lavender House is its extensive shop, visitors are welcome to explore the gardens.
The main varieties grown here are Lavandula angustifolia, Lavandula x intermedia, Lavandula dentata, and Lavandula stoechas.
Besides the gardens, you can watch the Lavender House makers work on their manufacturing methods, including enfleurage and distilling.
Then browse their lavender products, which include everything from skincare to gourmet teas!
Lavender Farms in New South Wales
Not to be outdone, though – the lavender farms in NSW are full of gorgeous lilac flowers and incredible fragrances.
Little Willow Lavender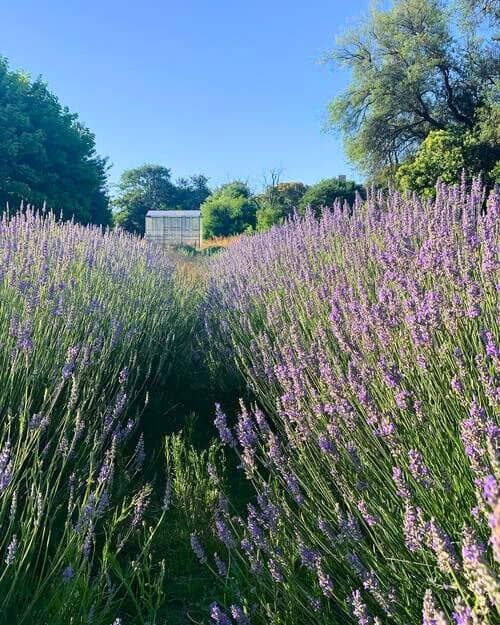 Address:

79 Recreation Rd, Willow Tree NSW 2339
The fertile ground of Liverpool Plains has allowed Little Willow Lavender to cultivate hundreds of lavender plants. They had their first harvest in 2015, and have continued to grow (ha!) ever since.
Little Willow Lavender is part of The Australian Lavender Growers Association, so you can be assured their plants are healthy and thriving.
Their lavender is harvested for a broad range of organic products such as essential oils and soy candles.
If you want something unique, try their lavender honey!
Rustique Lavender Farm
Business Hours:

10:00 AM to 5:30 PM

(call ahead for availability)

Operating Days:

Monday to Sunday

Address:

7979 Tumbarumba Road, Wagga Wagga, NSW 2650

Phone:

(02) 6928 1117
This rustic farm sits just half an hour outside Wagga, making it a perfect day outing. Rustique Lavender Farm grows both lavender and heritage roses, making the place a feast for all senses.
Rustique's farm staff handmake all their lavender products for their gift shop. Keep an eye on their Facebook page – they frequently make appearances at local markets around the state.
The best thing about Rustique? If you're lucky, you might meet a friendly alpaca or two!
Wyoming Lavender Estate
Business Hours:

9:30 AM to 2:30 PM
Operating Days:

Monday to Saturday | Sundays by Appointment
Address:

903 Mount Russell Rd, Mount Russell, NSW 2360
This out-of-the-way lavender farm will be well worth your while to visit! Wyoming Lavender Estate sits six hours north of Sydney, with a small but hard working team that harvests and distils their lavender by themselves.
Their shop operates out of a rustic '60s woolshed. You can purchase gorgeously fragrant essential oils, dried lavender, and other products for gifts.
If you can get there in the morning, contact the shop ahead of time to request some morning tea!
Lavender Fields to Visit in Queensland
Subtropical climates are great for many varieties of lavender, so there are several lavender fields in Queensland that are perfect to visit.
Kooroomba Lavender Farm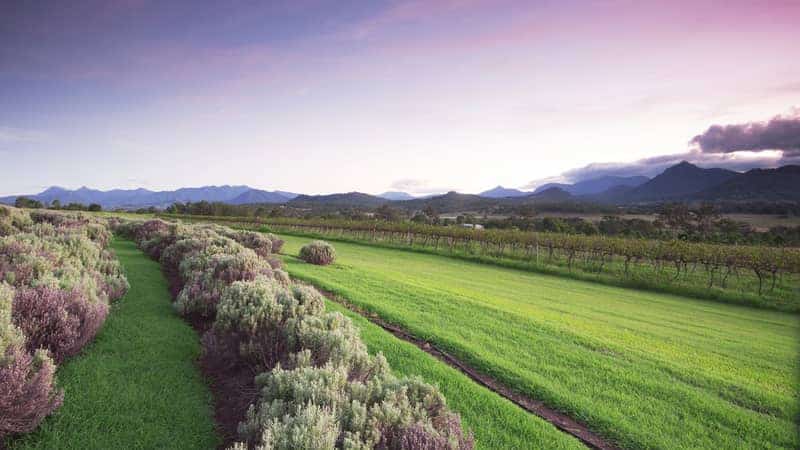 Business Hours:

10:00 AM to 3:00 PM Wednesday to Friday | 10:00 AM to 4:00 PM Saturday to Sunday
Address:

168 F M Bells Road, Mount Alford, QLD 4310
Kooroomba grows around six types of lavender, with French lavender being the most prominent. There are also vine plants thriving around the property, as the farm has some of the best soil conditions in QLD.
Explore Kooroomba Lavender Farm at your own pace while taking in the light, relaxing fragrance in the air.
Then stop at the Lavender Gift Shop for their exclusive products and their farm-to-table Kooroomba Kitchen products. They also have a menu featuring lavender scones and ice cream.
Take note, though: Kooroomba is very popular for events (especially weddings), so check their Opening Hours ahead of time to know when the farm is closed.
Pottique Lavender Farm
Business Hours:

10:00 AM to 4:30 PM
Operating Days:

Saturday to Sunday
Address:

15645 D'Aguilar Hwy, Kingaroy, QLD 4610
Pottique Lavender Farm has welcomed lavender lovers since 1981. It sits a stone's throw away from Mount Wooroolin and a scenic drive away from the Sunshine Coast, so it's perfect for a weekend getaway.
On most weekends, visitors can explore the farms and pick their own lavender cuttings for a small fee. You might even catch some local artists taking in the view as they paint masterpieces around the farm.
When you've finished wandering around, stop by their shop for lavender treats! The usual suspects such as scones and teas are available, but the more adventurous visitors can try lavender cheese and liqueur.
Windy Acres Farm
Business Hours:

9:00 AM to 3:00 PM Wednesdays | 9:00 AM to 1:00 PM Sundays
Address:

160 Westbrook Road, Westbrook, Queensland 4350
Alicia and Craig Vohland started Windy Acres in 2019 as a labour of love. They decided to build a lavender farm and apiary to educate people on the environment and the importance of bees to ecosystems.
The farm began with 6,000 plants, which the whole family hand-sowed over two days! Most of their lavender plants are Lavandula x intermedia and Lavandula Angustifolia x ssp.
Windy Acres grows their farm without pesticides and herbicides for the health of both the lavender and the farm bees.
If you're in Toowoomba and want to spend more than an afternoon at the farm, Windy Acres welcomes campers!
Lavender Farms to See in Western Australia
Even out west, you can find a lavender farm to visit for some lilac in your life. Check out these popular lavender fields in Western Australia.
Nannup Lavender Farm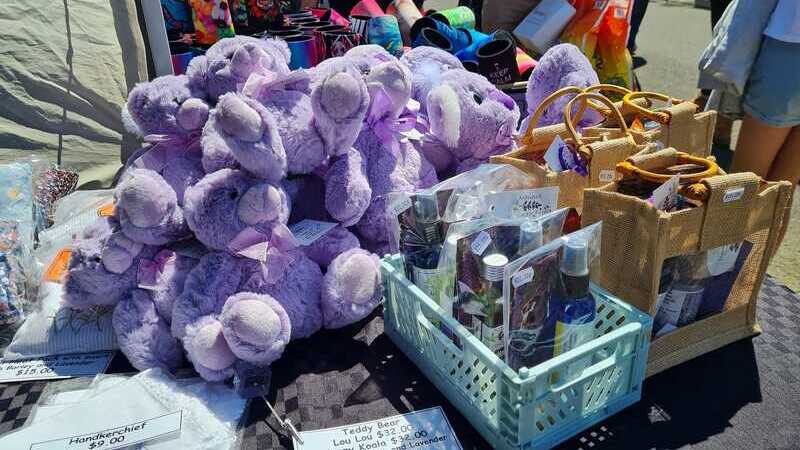 Business Hours:

10:00 AM to 4:00 PM | Thursday to Monday
Farm Shop Hours:

10:00 AM to 4:00 PM | Friday to Sunday
Address:

4365 Graphite Rd, Nannup, WA 6275
Nannup Lavender Farm is a popular destination for locals and tourists, especially in the summer from December to January. If you book a tour, you can even bring home some flowers!
Alternatively, they have a Private Garden open from July to December. Simply make a donation to enjoy flowers native to southwest Australia and the birds that love them as much as you.
Their affiliated shop, A Taste of Nannup, features unique products from over 60 artisans from around the southwest region of WA. There's something for everyone, from essential oils to soaps.
Yanchep Lavender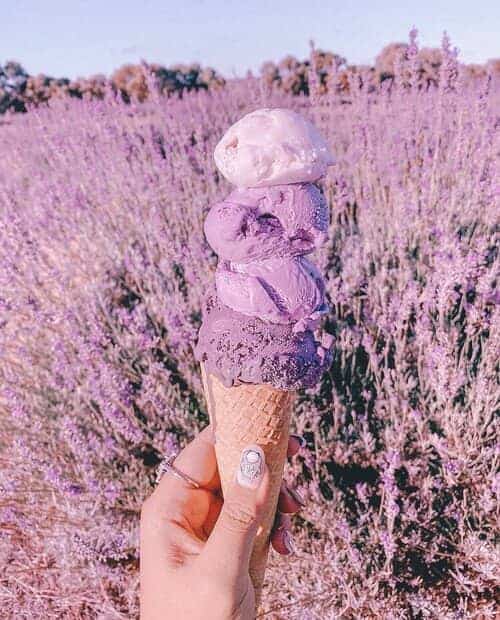 Kitchen Hours:

10:30 AM to 5:00 PM Thursday & Friday | 9:00 AM to 5:00 PM Saturday & Sunday
Address:

272 Old Yanchep Road, Carabooda, WA 6033
What was once a rundown turf farm was transformed into a lush lavender farm – Yanchep Lavender. The owners are Karla and Gary, who put in the work beginning in 2005 and grew Yanchep into what it is today.
Throughout the years, Yanchep has introduced products such as essential oils, candles, deodorizers, and even honey! Karla and Gary joined an apiarist's society to produce their lavender honey on-site.
Besides the gorgeous rows upon rows of lavender, you can check out their restaurant! The menu features their signature lavender ice creams and cookies, which everyone will love.
Must-See Lavender Farms in Victoria
Lavender plants thrive in Victoria, so there are several lavender farms where you can breathe that gorgeous scent. There are shrubs dotting Melbourne and other cities, but nothing beats a stroll through fields of endless lilac flowers.
Lavandula Swiss Italian Farm
Business Hours:

10:30 AM to 5:00 PM
Operating Days:

Friday to Tuesday
Address:

350 Hepburn-Newstead Rd Shepherds Flat, VIC 3461
If you're looking for lavender farms near Daylesford, there's one making its home on the gorgeous Shepherds Flat farmlands.
Lavandula Swiss Italian Farm features vast fields of lavender alongside the historic homestead, farm animals, and European-styled gardens.
At the heart of this farm is La Trattoria Bar & Eatery. Try their lavender scones with a generous topping of whipped cream, with lavender and strawberry jam. They even have vegan and gluten-free options!
For the full experience, book a History Tour to learn about Lavandula's Swiss-Italian background and how it became famous for its lush lavender fields.
Warratina Lavender Farm
Business Hours:

10:00 AM to 4:00 PM
Operating Days:

Wednesday to Sunday
Address:

105 Quayle Road, Wandin Yallock VIC 3139
Just an hour's drive outside of Melbourne is Warratina Lavender Farm. It attracts plenty of visitors every year, particularly during peak summer months.
Warratina grows over 10,000 lavender plants, most of which are harvested by hand with traditional sickles. The workers then dry the lavender for use in cooking products, decorations, and skincare.
If you're in the area, stop by their famous Tea Room to try all sorts of treats, especially their signature lavender scones. Make sure to book ahead of time or you'll run out of slots!
Ashcombe Maze and Gardens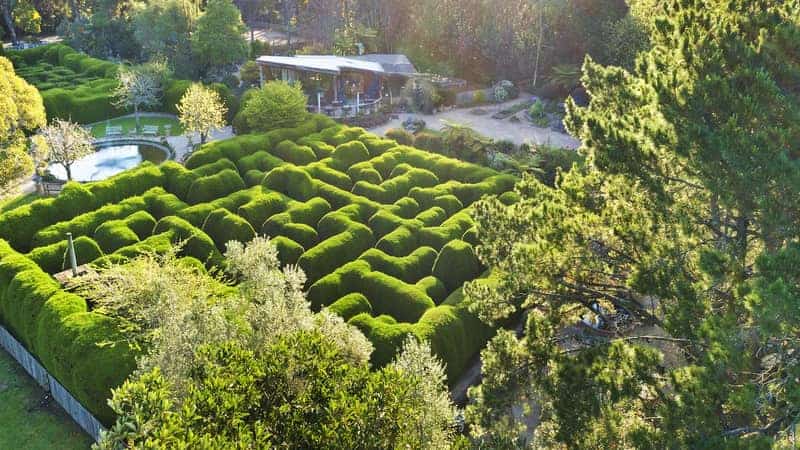 Business Hours:

10:00 AM to 5:00 PM
Operating Days:

Thursday to Monday

(every day over school holidays)
Address:

15 Shoreham Rd, Shoreham, VIC 3916
For a unique and bloggable experience, visit the Ashcombe Maze and Gardens. The famous Lavender Labyrinth flowers all year round, while their lavender display gardens are in bloom from spring to autumn.
Ashcombe Maze takes getting lost in lavender fields to the next level. The 3,000 sqm. garden features over 4,000 lavender plants that border the winding paths of the Lavender Labyrinth.
If you make it through, you'll end up on a viewing platform from which you can take in the gorgeous lavender flowers.
If you're up for the challenge, look for the pink, white, and even green varieties hiding in the vast purple sea!
Popular Lavender Farms in South Australia
There are also lavender farms in South Australia! Make a stop here to check out the stunning lavender fields and try some local treats.
Lyndoch Lavender Farm
Business Hours:

10:00 AM to 4:30 PM
Operating Days:

Monday to Sunday
Address:

407 Tweedies Gully Road Lyndoch, SA 5351
This award-winning farm and café has opened its doors to lavender lovers for over three decades. Lyndoch Lavender Farm has over 90 different lavender varieties, which flower year-round.
The farm is also the largest in South Australia!
Lyndoch is a working lavender farm, so you can find a variety of products sold on-site and online.
After you've wandered through their lilac landscape, stop by The Lavender Kitchen for all sorts of tasty delights. Try their delectable conserves and classic lavender jelly.
If you're there for the weekend, try their farm "specials" such as lavender ice cream, scones, and biscuits.
Emu Bay Lavender
Business Hours:

9:00 AM to 4:00 PM
Operating Days:

Monday to Sunday
Address:

205 Emu Bay Rd, Wisanger, Kangaroo Island, SA 5223
Emu Bay Lavender Farm had its humble beginnings in 2001 as a small garden.
Over two decades later, the farm now has over 51 acres with approximately 7,500 lavender plants – mainly Lavandula angustifolia and Lavandula x intermedia.
Kangaroo Island is one of SA's agricultural centres, making the location perfect for growing lavender. In summer, the plants are in full bloom while the island's famous Ligurian bees get busy pollinating the flowers.
When it's in season, make sure to try Emu Bay Lavender's signature lavender honey.
Stop by the café to try local produce and ciders – and their famous lavender scone with lavender jelly and cream!
Growing Lavender In Your Garden
You, too, can have lavender growing in your garden!
The low-maintenance shrubs have many uses: you can dry lavender to make oils and potpourri, or use it in cooking.
How to grow lavender
When growing lavender, you can either plant it from seed or propagate lavender cuttings. Both methods are straightforward and involve a bit of effort on your part.
Some of the farms featured here allow visitors to purchase or take cuttings from their fields, which will be perfect for propagating at home!
Whichever method you choose, place your plants in a sunny spot (at least six hours of sunlight) that's shielded from strong winds. However, some lavender varieties will tolerate partial shade.
How to care for lavender
WATERING: You'll need to regularly water young lavender plants, but their mature versions are very drought tolerant. Soak the soil during the hotter months, then wait for the ground to dry out.
PRUNING: Trimming is essential for keeping your lavender healthy. Regular pruning encourages flowering and prevents woody growth. Check for a reliable trimming service near you to help maintain your shrubs or hedges.
FERTILISING: It's not necessary, but you can feed your lavender plants in the summer to boost flowering. You can mulch around the plant base to help retain moisture.
Lavender adds gorgeous colour to your gardens when flowering. We won't blame you for wanting to grow your own plants after visiting a lavender farm — after all, lavender is just sup-herb.
AUTHOR'S NOTE: This blog post has been updated to reflect business hours and addresses. Some previous entries, such as Herbicos Lavender Farm, have closed or are no longer accessible. Others are closed for the season. Always call ahead or check social media pages to ensure the farms will be open during your planned visit!