Lavender plants are popular with gardeners all across Australia! Their vivid purple flowers add gorgeous colour, while they produce a heavenly scent. And there are lots of ways to use the plant.
For example, dried lavender blooms can be made into lavender oil or sachets. Meanwhile, cut flowers make excellent ornamental plants.
If you've decided to grow lavender in your garden, you'll need to decide on which type – and boy, are there plenty.
The main lavender varieties in Australia are:
Each lavender species thrives in different conditions and climates, so choose one that suits your region. For example, Lavandin or Spanish lavender might be the best lavender for Brisbane.
No need to feel overwhelmed – here's a rundown of the best types of lavender to grow in an Australian garden.
About the Lavender Plant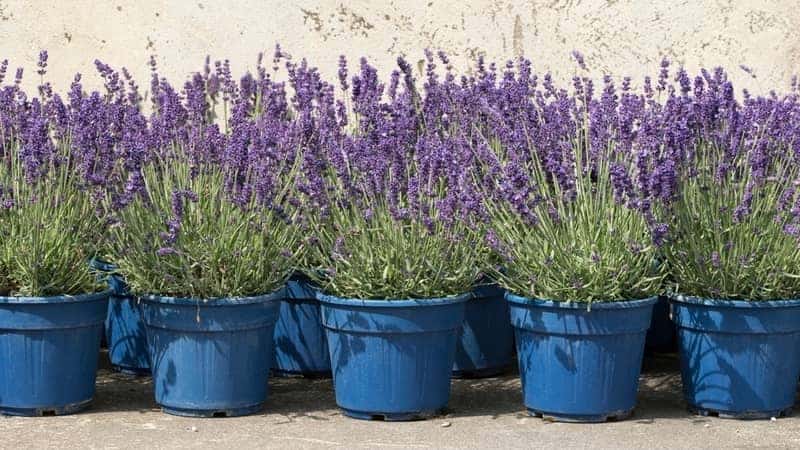 The Lavandula genus has about 47 species, which all emerged in temperate climates. Lavender are hardy, perennial plants that often grow as compact shrubs or pruned hedges.
Types of lavender can range from the popular Lavandula angustifolia (English lavender) to the sprawling, silvery Egyptian lavender.
Many varieties of this woody perennial are used in cosmetics, essential oils, landscaping, and even traditional remedies.
Many gardeners love lavender for its sweet scent and low-maintenance nature. Lavender requires little attention as it is drought-tolerant, pest-resistant, and grows even in poor, sandy soil.
When does lavender flower in Australia? The flowering season begins in mid to late spring, with peak blooms in December to January.
These are also the ideal months to visit Australia's best lavender farms!
Types of Lavender Plants to Grow in Australia
Here's a fun fact: the "common names" for the different lavender varieties are somewhat imprecisely used. For example, French lavender is usually attributed to Lavandula dentata, but it can also refer to Lavandula pedunculata.
However, there are widely accepted terms for each main lavender variety.
If you're confused, just follow the scientific names! But the list uses the names you'll commonly find in nurseries and plant shops when you look for lavender varieties across Australia.
1. English lavender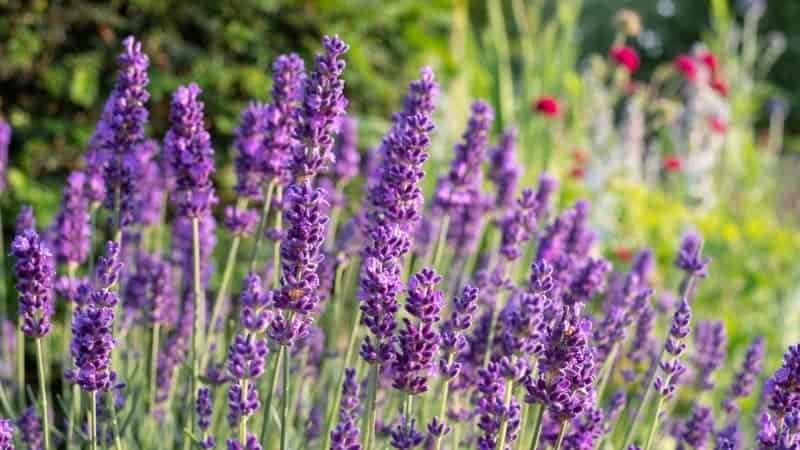 Lavandula angustifolia | Average height: 0.6–0.9m | Ideal for Australia Zones 4–6
This lavender variety is popularly known as "true lavender," and it appears in many, many gardens. Despite the common name of "English lavender," it's actually native to the Mediterranean.
English lavender has blue-purple flower spikes, although other cultivars can be violet-blue or white-pink. It has a muddy, grey-green foliage.
Lavandula angustifolia is best suited to cool, temperate climates – mild to warm summers and mild winters. This lavender blooms profusely from mid-spring to early summer, often more than once.
Grow your Lavandula angustifolia in full sun and sandy, well-drained soil. Water only when the soil is dry.
English lavender is one of the edible lavender varieties, so it's great for herb gardens.
Varieties of English lavender: Betty's Blue (violet-blue flowers), Lavenite Petite (light purple flowers), Hidcote (dark purple flowers)
2. French lavender

Lavandula dentata | Average height: 0.30–0.9m | Ideal for Australia Zones 5–6
This is a more elegant variety, with compact flower heads in a light lavender-blue colour. Lavandula dentata is also called "fringed lavender" and, despite the name, is native to the east and south regions of Spain.
French lavender has a more delicate scent than other lavender species, and it often resembles the smell of rosemary. However, the spikes are more vivid and produce more oils.
Lavandula dentata has the longest-lasting blooms, as it flowers from early summer to mid-fall.
These flowering plants cannot tolerate extreme temperatures, instead preferring mild summers and warm winters. In Australia, plant French lavender in full sun and sandy soil, with intermittent watering.
Varieties of French lavender: Grosso (mid-purple flowers), Fred Boutin (pale lavender flowers), Provence (lavender-blue flowers)
3. Spanish lavender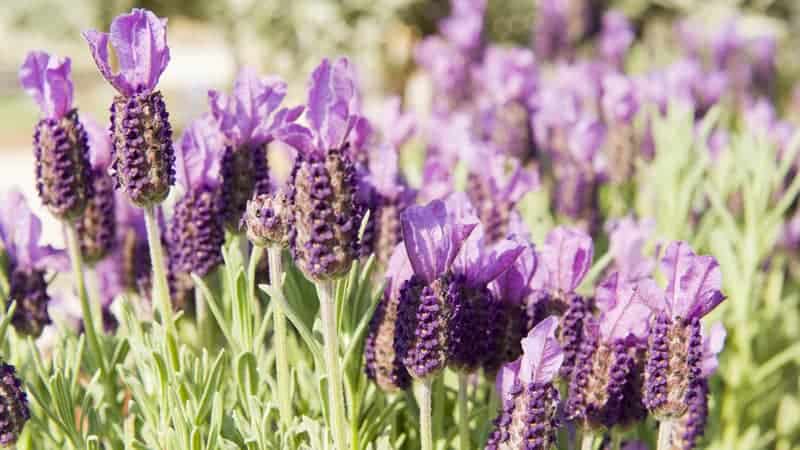 Lavandula stoechas | Average height: 0.45–0.6m | Ideal for Australia Zones 2–6
This lavender plant is native to the Mediterranean and North Africa. Other names for Lavandula stoechas are Butterfly Lavender and (in the U.K.) French lavender!
Spanish lavender has silvery leaves which are very aromatic, so they're frequently used in essential oils. The flowers are not as fragrant, but they have a show-stopping deep violet-blue colour.
Expect your Spanish lavender plant to bloom from mid-spring to late summer, although some varieties can wake up in late winter. Use it as groundcover so you can enjoy lush sections of pinecone-shaped flower heads, with distinctive little "ears."
Lavandula stoechas tolerates humidity fairly well, although it'll thrive most in mild summers and winters. Plant it in full sun and sandy, well-drained soil.
Varieties of Spanish lavender: Ballerina (white flowers), Kew Red (pink-purple flowers), Anouk (deep purple flowers)
4. Portuguese lavender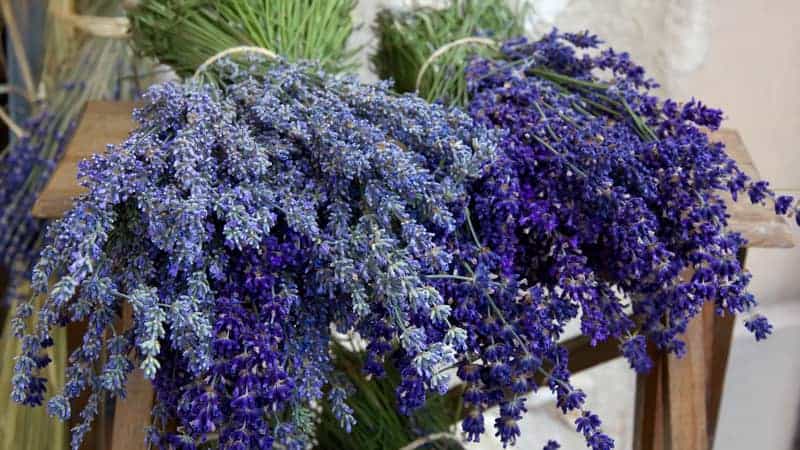 Lavandula latifolia | Average height: 0.3–0.9m | Ideal for Australia Zones 2–3
There are many names for Lavandula latifolia – spike lavender, broadleaved lavender, and of course, Portuguese lavender! This variety is native to the western areas of the Mediterranean.
Portuguese lavender has a more pungent scent than Lavandula angustifolia. Its colour is also lighter, with pale lilac flowers atop long stems (making them the best tall lavender plants).
Due to its stronger aroma, people commonly use spike lavender as a culinary herb. That trait also attracts butterflies and bees, so be ready for your garden to get buzzing!
Grow Portuguese lavender in a sunny spot and sandy soil. It thrives in areas with warm summers and winters.
Varieties of Portuguese lavender: Broadleaf (furry foliage), Portuguese giant (large flowers)
5. Lavandin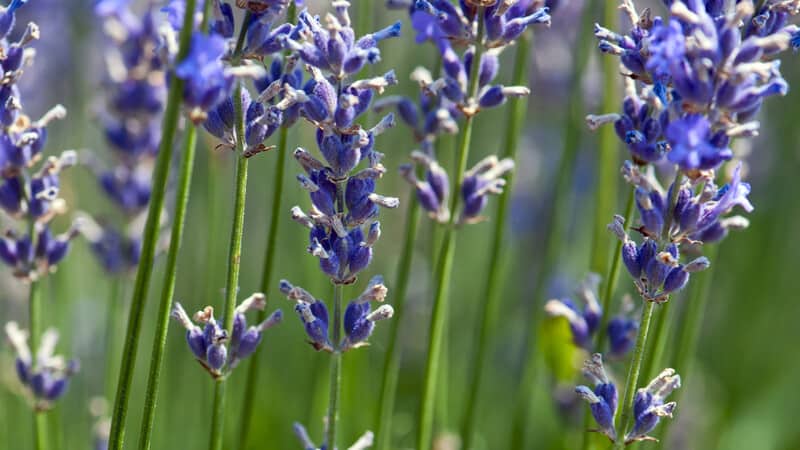 Lavandula x intermedia | Average height: 0.6–0.8m | Ideal for Australia Zones 3–5
Lavandin is actually a hybrid lavender variety! It marries the cold tolerance of English lavender with the heat tolerance of Portuguese lavender, so it covers a wide range of climates.
This variety is a highly fragrant lavender with dark purple flowers, although some cultivars can even be white! It begins blooming in mid-summer, and can last until early autumn.
Lavandin is excellent for mass plantings, so it's your best choice for hedges and garden borders. Grow it in plenty of sun, as it prefers dry conditions. You can layer gravel in the soil so it dries faster.
Varieties of Lavandin: Impress Purple (dark purple flowers), Hidcote Giant (light violet flowers)
Honorary Mention: Italian lavender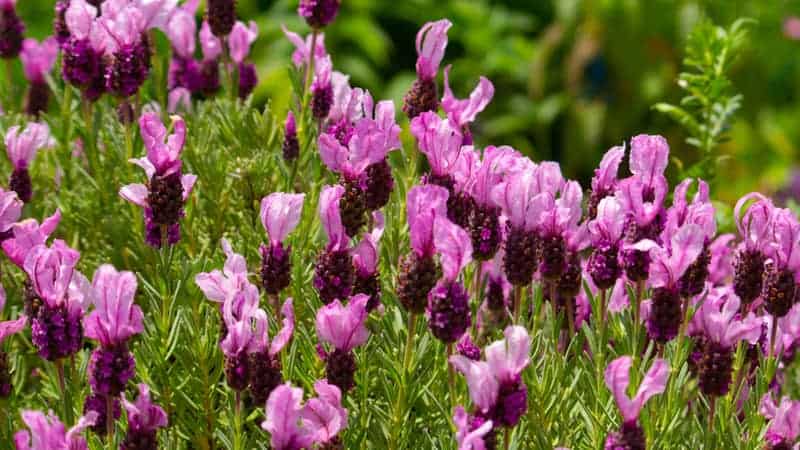 Lavandula stoechas 'Avonview' | Average height: 0.3–0.6m | Ideal for coastal areas
The Avonview is actually a hybrid of the Spanish lavender plant. Often called Italian lavender, it's an evergreen shrub with large, dense flower spikes in a purplish-blue or pinkish-violet.
When comparing English lavender vs. Avonview, the Italian lavender variety has a deeper aroma and more compact appearance. And unlike Lavandula angustifolia, Italian lavender can tolerate the more humid climates of coastal areas.
Position your Italian lavender Avonview in a sunny spot with sandy, well-drained soil. The lavender blooms can reach half a metre in height, but cultivated varieties will likely grow to just 0.3m.
Italian lavender is great for shrub borders, cottage gardens, rockeries, and hedges!
Varieties of Italian lavender: Leucantha (white flowers), Wine (mauve-violet flowers)
Lavender Plant Care
It's easy to grow lavender – plant it somewhere with full sun, at least six hours a day. It'll also tolerate partial shade if needed.
You can grow lavender from seed, or you can propagate lavender from cuttings.
Lavender needs good air circulation, but make sure to keep the flower heads out of strong winds.
Once it's matured, lavender can tolerate drought well, so don't water too frequently. When it's hot and dry out, though, give it a good soak.
Don't use clay soils for lavender, since these retain too much moisture. Lavender prefers well-drained, sandy soil that's slightly alkaline.
Lavandula plants are excellent for rock gardens, herb gardens, hedges, and accent plants. But for those without outdoor green spaces, you can also grow lavender in pots!
Pruning lavender is especially important for plant health and appearance. Regular pruning will also help all types of lavender withstand the elements, while encouraging new growth and highly fragrant flowers.
The rule of thumb is to cut back about one-third the length of the stem and to deadhead spent flowers. If you're unsure, go ahead and find a trusty gardening professional to do your trimming!
Lavender doesn't need fertilising, although you can mulch the soil around it to retain moisture. After that, just sit back and let your lavender grow – and breathe in deep when it's blooming!