Got a nosy neighbour and want to block their view? Or maybe you just like the look of hedging plants around your garden. With their bushy, dense growth, hedges make great screening plants with their green foliage.
Fast-growing hedges can do wonders for a garden. They can break wind and weather, fence in your lawn, and act as privacy screens.
They also make great backdrops if you're hosting a garden party – think of that Instagrammable aesthetic when you string up some fairy lights!
In need of some hedging in a hurry? Here's a list of some of the best fast-growing hedges for Australian gardens.
First things first…
What's the fastest growing hedge in Australia? There's no one real answer.
There are plenty of fast-growing screening plants such as the Japanese hedge (approx. 75cm/year) and Photinia (approx. 60cm/year), but the growth rate depends on a lot of factors. That includes soil types, sunlight, climate, and other conditions.
If you want an extra-fast solution, then put up a fence for some fast-growing climbing plants.
They establish themselves faster than hedging plants, but are also less dense. They may require more maintenance since they can get pretty unruly.
Considerations for Growing Hedges
If you want a hedging plant for Australian gardens, there are some things to consider.
Ask yourself questions such as:
Do you want a dense hedge? How dense?

What's the climate where you live? Is this hedge type frost tolerant or drought tolerant?

Does the hedge flower? If so, when – early spring, late spring, or early summer?

How much space do you have for a fast-growing hedge?

Will you be able to maintain it? New growth needs consistent trimming – can you handle it yourself, or should you get a

trimming service

?

Does your garden have well-drained soil or heavy clay?

Will it go with your existing plants?

Will fast-growing hedge plants be enough as a privacy screen?

Will you position them in a raised garden bed, or as container-grown plants?
Depending on your answer – and really, on your general preference – you can choose what low maintenance, fast-growing privacy shrubs and hedges to plant.
Fast Growing Hedges
There are lots of different fast growing hedging plants that can form a green pillar or informal hedge.
We can't name them all, but we can name some of our favourites for many Australian gardens!
1. Murraya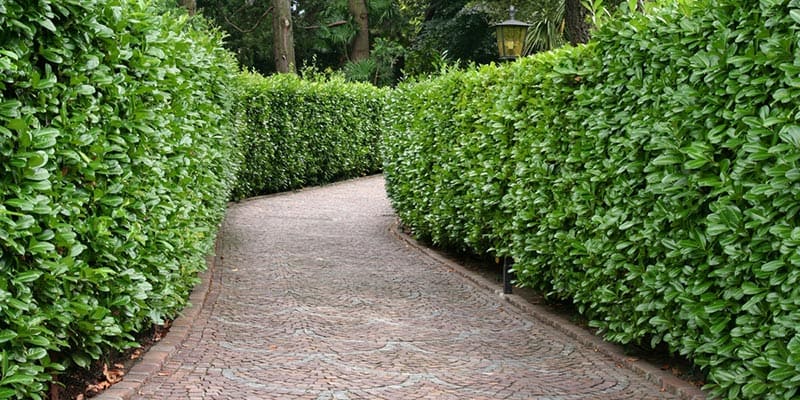 Murraya hedges are one of the top choices for hedging plants in Australia.
This versatile plant has sweet-smelling blossoms and glossy green leaves, making it an excellent garden feature and screening plant. They can grow up to 4.0m, but can be shorter if trimmed regularly.
Murraya paniculata is straightforward to grow and care for, especially in warmer climates.
Space them 60-76cm apart in full sun to part shade.
On average, Murraya hedges take 3-4 years to reach full height.
2. Fiji Fire
This tall shrub features bright new growth for most of the year, with a tight habit that makes it perfect for hedging.
In spring and summer, the Fiji Fire blooms in vivid orange-red flowers. Its leaves have a silver sheen that makes it a very attractive plant.
Plant your Fiji Fire in full sun for fuller dark green leaves and plentiful blossoms. It's somewhat frost sensitive, but will tolerate dry and coastal conditions.
The plant thrives best in clay loams or sandy soil. When fertilising, use a native mix – it's a bit picky!
3. Starry Night
How romantic is that name? The Starry Night plant features beautiful deep purple foliage, which bursts into bloom with frosty white flowers in late spring.
This Australian native plant attracts plenty of bees and butterflies to your garden.
The Starry Night tolerates most soils, but likes well-drained humus the most.
Plant it in an open position to make the most of its evergreen foliage, and prune regularly to keep its shape.
4. Photinia Robusta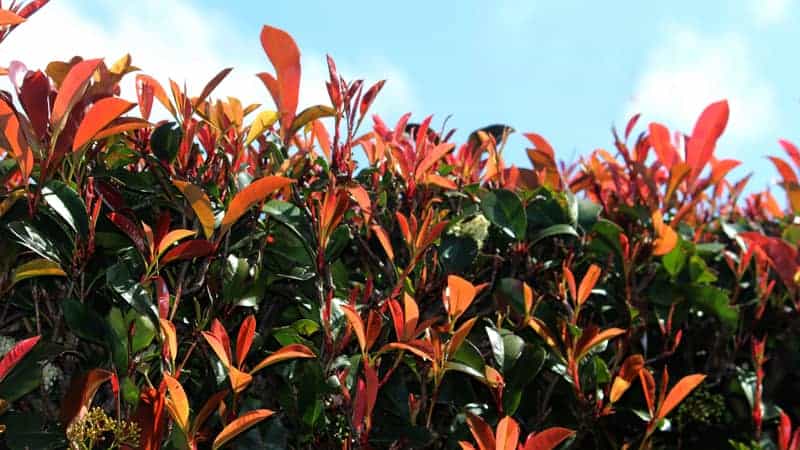 The Photinia Robusta is an extremely hardy hedging plant – it's frost tolerant, drought tolerant, and even thrives in coastal areas.
It's often overshadowed by the Lilly Pilly, but still makes an excellent dense hedge with its reddish new growth.
It's very easy to grow, and isn't fussy about soil types.
Space Photinias 1.0-1.5m apart to make the most of their dense growth. It grows fast, so trim regularly!
5. Cherry Laurel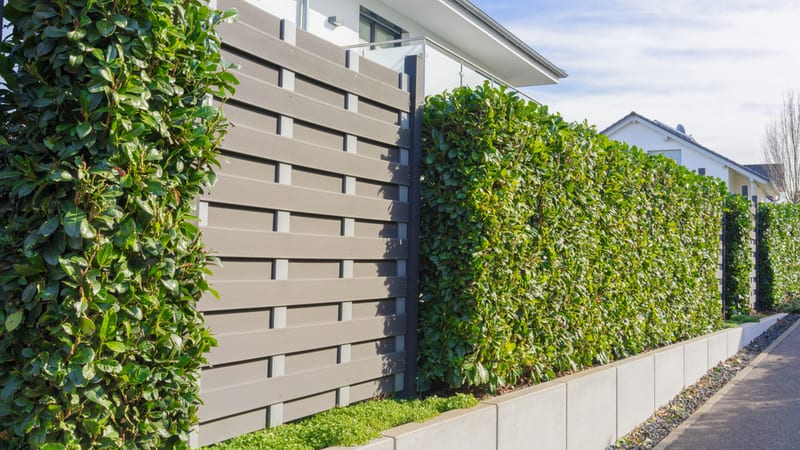 There are a lot of laurel varieties, but cherry laurel is one of the best plants for hedges.
It has large, shiny emerald leaves and blooms in fragrant white flowers during summer.
This fast-growing plant can reduce noise and wind coming into your yard.
Grow cherry laurel in full sun or part shade, in well-drained soils. It'll form a dense screen when mature, which should be pruned during late summer.
6. Japanese Bamboo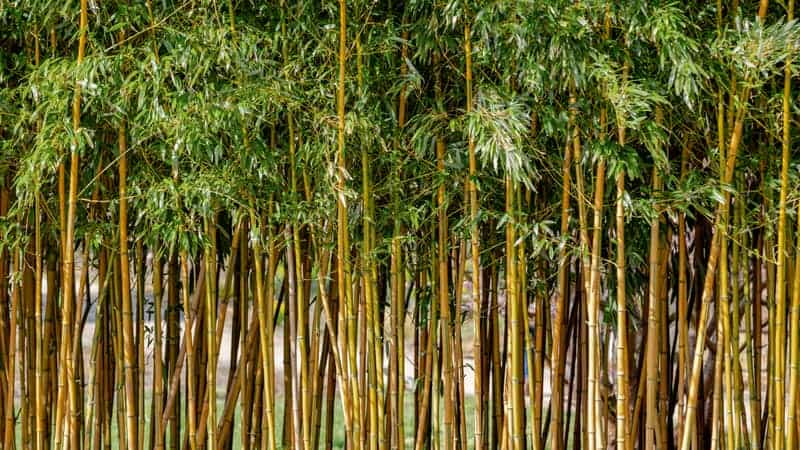 You might not consider bamboo as a "hedge plant", but it is – and it's a great, environmentally-sustainable option. Japanese hedge bamboo in particular makes for great fast-growing hedges.
Japanese hedge is a clumping type of bamboo, meaning it's non-invasive and low-maintenance.
It reaches an average height of 3.0m, and can tolerate both sun and moderate cold.
Plant in spring or summer in rich soil and full sun, and water when it's dry out.
Don't be afraid to prune hard – bamboo always bounces back!
7. Privet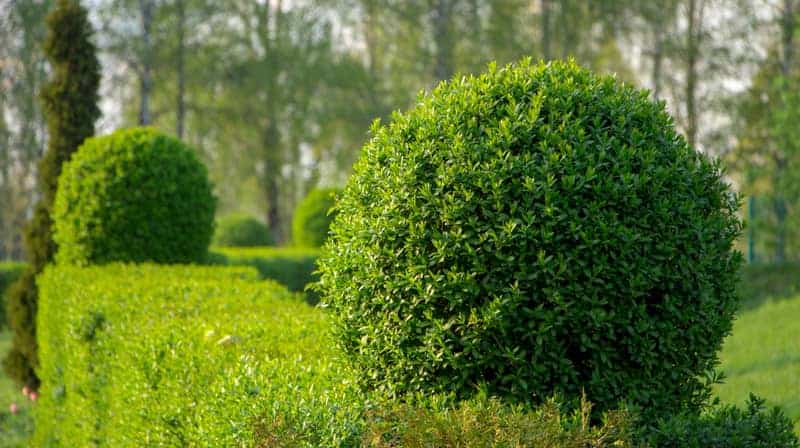 This robust plant is evergreen, meaning it's frost hardy and doesn't lose its green foliage in winter. This makes it ideal for cooler climates.
Garden privet is a hardy plant, growing 30cm a year and reaching 4.0m in height.
Grow garden privet in full sun or part shade, and water well for the first two years after planting.
Prune it once or twice a year to keep a neat shape.
It's not the quickest of our fast-growing hedges, but its oval leaves make for an excellent green screen.